Cellphone Radiation Protection Cases

These stylish cellphone radiation protection cases offer two inside pockets within the outer cover - one that completely blocks the phone from all signals and acts as an anti-radiation shield to keep you safe from microwave radiation  (we tested it) when you want to carry your phone but not use it, and the other pocket which still allows the phone to search for cell tower microwave signals and receive calls.  In addition, the anti-radiation blocking also keeps your credit card info safe from identity theives and wireless hackers!" 
The convenient fold over top that is easy to slip your cell phone in and out of. Very user friendly cellphone microwave radiation and emf protection.
- Colors: Pink, Black or Tan Brown
- Soft bonded leather on polyurethane material
- Anti-radiation, anti-degaussing
- Signal intensity attenuation up to 90dB
-  Fits most cellphones, digital cameras, and GPS devices
             (check that your device will fit the dimensions given below)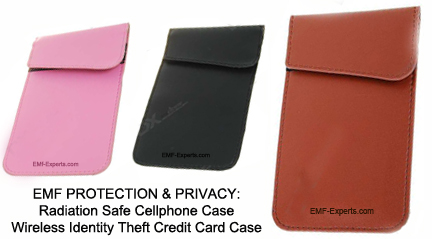 ANTI RADIATION CELLPHONE CASE FEATURES:

Blocks cell phone signals
- Phones will not ring while inside the second layer
- Signal is automatically re-acquired when put the phone in the outer layer
- Depending on your cell carrier's network configuration, callers will hear a "temporarily unreachable" message instead of "cell phone is off" message
- RFID scanner (wireless theft hackers) signals will be blocked

Dimensions: 5.51 in x 3.35 in x 0.2 in   -or-  13.5 cm x 8.4 cm x 0.5 cm (Please measure your phone dimensions carefully to ensure fit). Weight: 0.88 oz
               Cost: $24.95/ea Radiation-Blocking Case (your choice of color)

Specials & Discounts (choose from the drop down order menu below):
          2 Cases for $39.95 (Save $5 each / $10 off),
          Smart Family Saver Price:  5 Cases for $79.95 (Save $7 ea / $35 off)
FREE USA Shipping Included   by USPS - U.S. Postal Service
Currently Out of Stock, Check back for updates

---
TESTIMONIALS
"Pros: I have this case in pink and black as well. I am sensitive to EMFs and  concerned about cellphone radiation. This case is a nice solution. It also is nice to use in the car when you are driving and shouldn't be distracted by an unimportant phone call or text message. The case is thin soft leather-like "leather" that is well constructed and lined wtih a blocking fabric.
Cons: I use mine everyday and the velcro closure is deteriorating so I've just purchased a replacement. It's so cheap and so useful, I don't mind.
Other: Great price for a product that does what it says it will. I'm very happy with my purchase". ML - Dallas TX
"Apart from the microwave radiation benefits, I have had my identity stolen and now keep all my credit cards safely protected in this case - away from identity theft wireless hackers!"  TW - NY NY

"This mobile phone pouch works as Faraday Cage, so any electronic device can not communicate. This includes mobile phones, trackers, etc. It is a good thing for phones like iPhone, where it is impossible to take out the battery from the device. This is a terrific, reasonably priced tool for your privacy and safety. There is no other protection for mobile phones with built-in battery. RC - Seattle WA

MORE INFO - in addition to EMF Safety:
Learn more about ALSO protecting your identity and financial privacy
using this cellphone EMF shielding case here
Or carry your credit cards in your regular wallet using these EMF Shielding Sleeves designed to prevent RFID electronic credit card hacking.