EMF Affiliate Program

Our EMF Affiliate Program Features Benefits Galore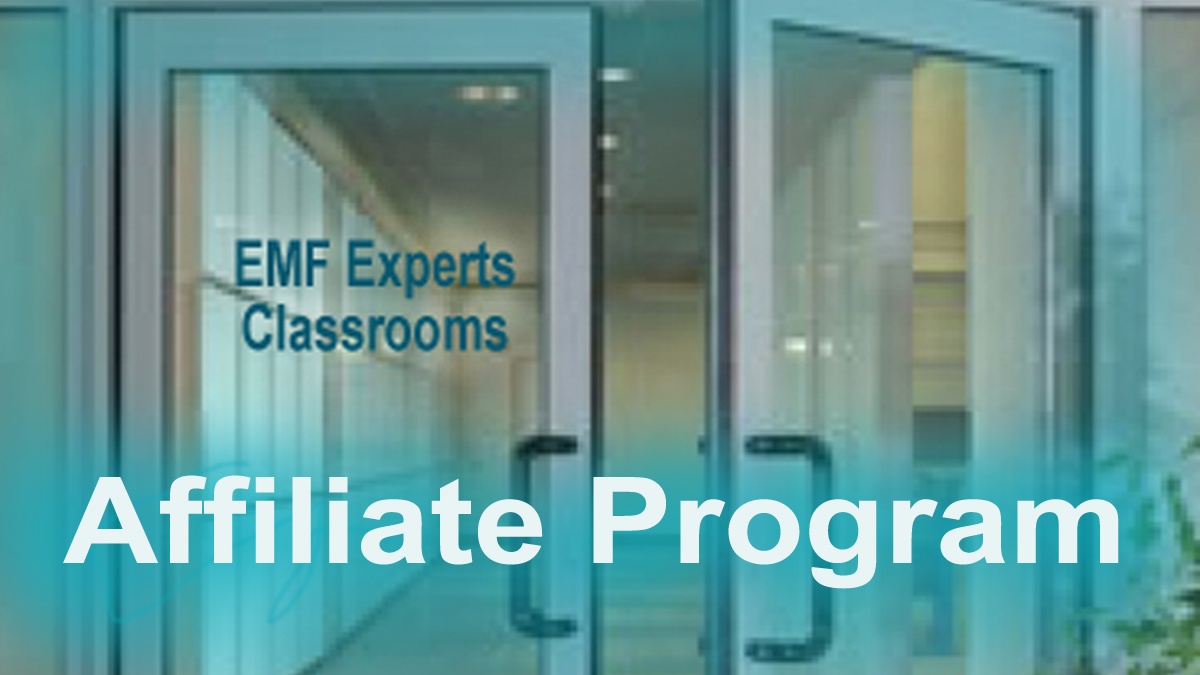 Finally!  Quality EMF Self-Guided Training courses an EMF Affiliate can be Proud to Represent!
This program will enable you to get paid for referrals to EMF Experts Classroom for any of the self-guided training courses. You can see current courses in the online Classrooms here, with their descriptions and prices; these are the courses you will be earning affiliate commissions when you refer web visitors.

Ready to Put in a Passive Income Stream with our EMF Affiliate Program?  Submit Your Affiliate Application here.
The most personally and professionally rewarding
EMF Affiliate Program ever.
Our affiliate program was created to be both personally and professionally rewarding. In other words to share the profits for spreading the word to a technology-immersed world greatly in need of finding out what you know - the EMF detection and protection skills they need. Our affiliate program offers personal benefits and meaningful satisfaction in terms of helping other's lives and world we live in,  while also offering some of the best professional commissions and perks you'll ever find.
We call it "doing well while we do good".

And best of all our Affiliates represent training 'products' that they can be proud of. Our training is dedicated to a safer, healthier, smarter world and you can read why we do it and what we're all about in our Mission Statement.

Features of EMF Experts Affiliate Program

PROFESSIONAL AND PERSONAL REWARDS:

Affiliates earn 10% Commissions on all paid Enrollments Referred
Affiliates offer 5% off Coupons to referrals (lower than price posted)
Certification Graduates earn 15%  & can offer 10% Discount Coupons

No contracts, no performance reviews, no pressure

Transparency: View all your Affiliate Account Activity Online 24/7
Commissions paid monthly via PayPal (after only a 30-day wait)
All Commissions paid out (no minimum threshold unless by request)

Customer (student) service is all provided on this end, by us
Affiliates earn commission on enrollments for their own use
An annual gift (of any free course) is awarded to the top 3 affiliates
An annual feature article is published promoting the top 10 affiliates
Affiliates can promote their own EMF business in the EMF Directory
Affiliates can promote their own products in News Classified Ads
Affiliates can use promotional giveaways provided by EMF Experts
All site content is GDPR compliant (trustworthy & transparent)

Ready to Put in a Passive Income Stream with our EMF Affiliate Program?  Submit Your Affiliate Application here.
Frequently Asked Questions

Please Describe the Process after my Affiliate Application is Submitted?
Usually, affiliate application approval occurs with a day or two. We use this time to visit your website or social media in order to get acquainted with each affiliate, his/her focus and their stated goals since it helps us better serve each one individually. Upon approval new affiliates receive an email with the getting-started info, the new unique affiliate link that has been assigned to them, and login info for their affiliate account where they access their Affiliate Dashboard, track their referral activity, pay-out info and more.  It is designed to be secure, user friendly and convenient.
How are Affiliate Commissions Tracked?  How do Affiliate Payments Occur?  When can I expect my First Pay Out to Arrive in My PayPal Account?
Each referral that enrolls in a self-guided training course is tagged with your Affiliate ID and it's automatically registered in your Affiliate Account the same day, so you can track the income that you are generating there 24/7. We pay monthly on the 15th of the month, however we must hold each referral commission for 30 days to cover the amount of a full refund in the event that your referral requests a refund within the 30-day referral time period. So, each referral commissioned that is over 30 days old becomes a pay-out to you on the 15th of each month via PayPal.  You can always see what referral commissions you are eligible for payment on in any given pay period. If you decide to quit any money still owed to you (as yet unpaid in your account) will be paid out to you, nothing is held back.
Is There a PayPal Charge  for Affiliates to Receive Online Payments from You?  Can you Mail Me a Check?
We have a PayPal Business Account in order that there is no charge for you to receive PayPal payments from us (no percentage of funds received and no transaction fee).  All you need to receive your Affliate pay-out from us is to have a PayPal.com account, which is very easy to set up online.  There are benefits to using PayPal  - sending monthly payments via PayPal not only provides you with tracking but it is also practically instantaneous, and it is used worldwide, which is important for our international affiliates. We also cannot send it to you via PayPal using their free friend-to-friend transfer, because this is a business transaction.  PayPal has your Social Security and other financial info on file, and so we do not need to collect any  financial info from you, and  your financial privacy is important to us.  In any case, as with all sources of income, including PayPal, you are responsible for your own tax reporting.

Why do we use PayPal and not one of the many other popular app payment services?  We do not recommend wireless apps (like Venmo, Google Wallet, Amazon Wallet Pay etc) , no matter how popular, since online financial transactions are not as secure using wireless apps as they are with wired computer transactions, but predictably our overriding reason is that we do not want to contribute to anyone's unnecessary EMF exposure.
Do you Offer Any Other Pay-out Alternative?   Can You Mail Me Checks?  How About Online Gift Cards?



As an alternative to PayPal, we offer Zelle, which is an online payment service that you can access and manage on your (wired) computer desktop, using your own current USA banking website.  It is secure, almost instantaneous, and all we require to send funds to you is your valid email address.  On the upside Zelle offers all the advantages of PayPal and more, and also without charges to receive money from us. On the downside, Zelle is only offered at this time with USA Banks and Credit Unions.

As for check payments we do not have the staff to handle check payments by postal service, and we do not recommend it since sending checks in the mail can be risky. However, a one-time check can be sent to you in a pinch.  As for gift cards, we cannot offer these at all since as a business transaction Affiliate pay-outs must be transacted through an IRS recognized financial path.
How Does your Program Work for International Affiliates?
Our training is in English, but it's training content applies worldwide. Affiliates only need a PayPal account tor receive commission payments online.
Do I need a website to be a Successful Affiliate?
No, not necessarily. A blog or any social media platform, or even regular  email, is a good way to share your referral information and your online affiliate link. You will be credited with the referral (once they enroll and payment has cleared) regardless of what source your referral has come from. However, if you would like to begin a website or WordPress site or blog, we have tutorials on how to do that, which are designed to help you succeed in an online business (Refer to 'Online EMF Entrepreneur' articles in the Archive at www.EMF-Experts.news).

Do you provide a Landing Page for Affiliates to direct their online Referrals to?
No, with your main affiliate link you can link directly to any webpage of your choice; the most popular one is the Feature Courses (homepage) in the EMF Experts Classroom. Or, you can create a direct link to any specific course by selecting it in your Affiliate Dashboard within your Affiliate Account. You can also attach any affiliate link to any image that you create, or that you are provided with for us as an affiliate, so that when your referrals click on that image they are taken to wherever you are directing them (and anywhere that is is tagged with your affiliate ID so you get credit for that referral). 
Do You Provide Education on How to Use Affiliate LInks if I Have Never Done it Before?
No, we do not provide it as separate training, however your Affiliate Account has Help screens to guide you.  If you are not sure an affiliate program is for you, try it awhile and cancel it if it is not a good fit for you; there is no obligation and no payment lost to you in the learning process.
Do You Offer Any Other Products or Services in Your Affiliate Program, other than Self-Guided Training Courses?
At this time, we offer all self-guided training courses you see in the EMF Experts Classroom, although through our business we do sell other types of live training, live presentation events, live phone consulting, and also our own propitiatory EMF products. It is possible that we may consider including some or all of these things in the Affiliate Program in the future, but right now we are only set up to offer affiliate commissions on self-guided training courses, which we offer as a distinct advantage to Affliates specifically because they are the most popular with the public.

---
Interested in earning passive income by referring others to our quality EMF Expert Training?  We happy to happy to hear from you and learn how we can help; to get started simply Submit your Application to tell us a bit about yourself and your goals in becoming an EMF Expert Training Affiliate.