What Does EMF Mean?

Firsthand Stories and Testimonials
We asked our graduate students what does EMF mean to you now that you have taken the training?  

EMF, or electromagnetic fields, have taken on an important meaning that goes beyond the mere engineering basics of electricity and magnetic fields, which is what the letters EMF stand for, as these personal stories from our graduate students and responses to our site show.
We thought we'd let them speak for themselves about their own experiences with EMF and how EMF Certification Training changed their answer to the question, what does EMF mean to you?  Here are a few of the hundreds of responses we received ...

Testimonials and Stories
from Certification Training Graduates

A particularly favorite response, that prompts a chuckle every time we re-read it ... thank you Steve from Texas, for bringing a smile to our day.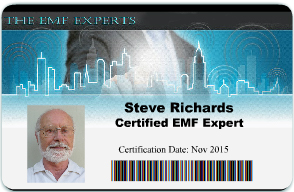 Your insights are most helpful and valuable. Might I congratulate you on how absolutely elegant your web page and literature are!  Beautifully presented, clearly written and organized with the lay person or student's limitations  in mind;  a goal I wish more technically top heavy enterprises could achieve!!  Perhaps you might do all us citizens a big favor and consider a move to Washington D. C., where they are in desperate need of empathy and clarity.

 Your whole certification program- training, curriculum and lessons- are equally well produced and presented.
And he went on to poetically say ...
In the pale gray atmosphere of EMF, there is a beacon of bright light illuminating our way through this sea of electromagnetic pollution.
Mr.Young and his wife are the real deal...An accomplished professional electrical engineer and an award winning professional health writer have teamed up to produce a beautiful crafted course.  The lessons are highly organized, visually pleasing and written in such a way that the technical language of "science" does not over whelm.  The breadth and scope of the material presented in this course, for this subject matter, is SECOND TO NONE!  A virtual treasure trove of information at one's finger tips.
The "business" side of the course is handled with the utmost integrity. 
Every thing is as advertised and works like clock work. Two thumbs up! 
The course is "painted" on a bigger canvas than I ever thought and I've come away realizing that there is a much bigger "picture" behind all this EMF related technology!  I got more out of the course than I paid for

Steve Richards, EMF RESOURCE


---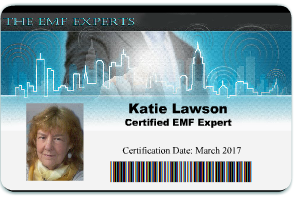 I feel totally blessed and grateful to have found Chris Young and the EMF Experts' training online.  I know I received way more than my money's worth by taking this certification course.  This is the beginning of a whole new career for me.

What I found most valuable was all the practical background info on why something was important along with the specific how-to info to deal with it, including real-life situations and recommendations of specific products. Above all, what I most appreciated about this training was his personal attention, answering every email question I had while remembering my background and relating the response to it.
Katie Lawson,  Washington, USA

---
A very moving reference from an EHS sufferer who became certified in order to "make a difference in the lives of others", and certainly will!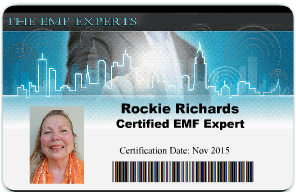 As a former high school teacher, EHS sufferer, and recent graduate of EMF-Experts' 12 week Specialist's Certification Training, I absolutely must give Chris Young an A+!  His detailed presentations were up to date and gave me a clear understanding of EMF's, their dangers, and their remediation. 
All materials were explained in an easy-to-understand and friendly manner and were indexed in front of each lesson so that I could refer to them rapidly when needed. Every supplemental download provided a wealth of information that was ready to use.  His recommended resources and accessible videos are valuable tools with powerful impressions that I can use with my clients to get the message across about EMF's. 
He valued me as a student by answering every question I had---no matter how simple or silly. And, more than anything, he probably saved my life by VERY STRONGLY encouraging me to send a letter (he even provided a sample letter) to my electric company to IMMEDIATELY remove the dangerous Smart Meter that repeatedly kept causing my Atrial Fibrillation.  I am forever grateful for his gracious sharing of knowledge and for inspiring each of his students to make a difference in the lives of others.    

Rockie Richards,  Texas, USA
---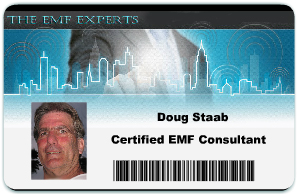 The course presented by Chris Young is one of the best courses you will find to learn the intricacies of EMF/RF issues found in and around a home or business.  His presentation as to the best ways to determine and find these problem areas leads to a better understanding of the many ways to mitigate them as well. 
The course outline and his enthusiastic delivery keeps the students on their toes throughout the course.  He finishes his course with the best way to establish, grow and succeed in becoming one of the best consultants in the industry.
His willingness to work with his students is a great asset while going through the learning curve, especially for those who may have questions or concerns with what they find.
I would highly recommend this course to anyone serious about becoming an EMF expert.
Doug Staab, Phoenix, AZ

---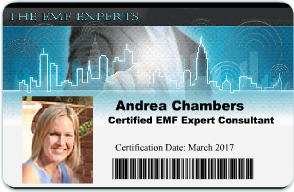 I wasn't sure I should take this course, I'm a single mom, I am really pressed for time and the tuition was a lot of money for me.  But I am very glad I did!
Now, I'm launching my new career as an Certified EMF Consultant doing meaningful work that I really enjoy; building my new consulting business from home in my spare time, at least for now, while I still hold down the job that has been keeping a roof over our heads.  Switching seamlessly to a career in such an in-demand field would have been impossible if it were not for this type of training,  For now EMF Consulting represents additional income and a  job security back-up plan, but the way the phone keeps ringing for consultations, soon it will be my full time career and my young family and I will be more personally AND financially rewarded by my being my own boss.
Andrea Chambers, Portland OR

---
A heartfelt confirmation from  Alison in the Australia that we are on the right track with our own mission statement to be of help...
"Your helpful website was great but it was your personable and knowledgeable followup conversation that affirmed my decision to take certification training. I am looking for a career change, one that excites me and is both relevant to my professional training as a safety engineer tech and also relevant to my life's purpose, which is to make a positive difference in the world."

___________
Much appreciated words from Canada, which faces EMF safety standards as out of health-safe-range as the USA's ...

"Awesome certification training!  I hit the ground running (with confidence) the day I finished the course, and my business has been built from the ground up based on the tried and true methods of a true EMF Professional that would have been far beyond me without this training."
___________
A young couple with background skills in electronics and health that they wanted to merge into a shared EMF Consulting business founded on a solid EMF Certification.

"Thank you for an amazing training course!  EMF-Experts provided an in-depth and informative 12 week course on everything EMF.  Chris shares his knowledge and ensures that you are prepared to build an EMF business.  I am excited to share with others how they can protect themselves from the dangers of EMFs".    J. Wells

What does EMF mean to the average person taking
EMF Detection and Protection Training?

Theresa from San Diego learned the often shocking hazards of EMF, when she discovered someone was stalking her electronically ...
"Electrosmog can be more dangerous to you than you think. I was electronically stalked by a cellphone hacker,  Luckily I contacted this site and you walked me step by step through how to protect myself right away. I went on to learn how to protect myself from the many other risks of electronic pollution - like ID Theft, not to mention health hazards from EMF radiation continually disrupting our bodies cell function. I never realized how insidious EMF is!"
Chas in California finally got a good night sleep when he learned how to control the EMF permeating in his bedroom ...

"The Bedroom Sanctuary ebook guided me through everything I needed to know to finally eliminate and block the EMF in my bedroom causing my sleep disorders. Ah, to sleep perchance to dream - blissfully at last."
Ashley in Scottsdale learned where the best EMF-safe spot in her condo was for her newborn baby's crib ...
"I have done a lot of reading on EMF safety but I am so grateful and glad to find out things I never could have known without the help of an EMF home consultation. First is where my baby will be safest from EMF in our home, and also that the baby's air filter was generating high magnetic fields that I was oblivious of.  Wow, it is now "so out of here!". That consultation caused several other big lifestyle changes for us. WiFi in our  bedroom is not an option now and as a result sleeping is much improved. We also moved our dining table away from the wall where  high EMF was emitting from the electric service box next door.  Biggest change of all - I will never use a microwave oven again, after seeing with my own eyes that the microwave radiation EMF extends to every corner of my home when it is cooking - far higher than I ever imagined, and it is a brand new energy star rated appliance!  But obviously not health rated whatsoever.

---
What does EMF mean to you?  Take our Survey to find out how your experience compared to what other site visitors experience with the various sources of EMF, such as wireless technology, cellphones, etc.
Or Learn More about EMF Expert Certification Training