EMF Professional Directory

Our EMF Professional Directory will help you locate the Certified EMF Expert Consultant, or other EMF Service Provider that you are looking for, nearest to your location.  Click this button to visit our Directory: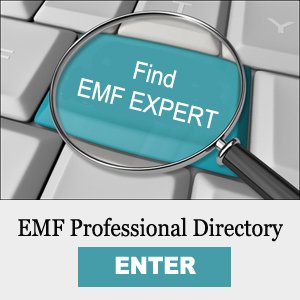 Here, in this easy to navigate directory, you will find service providers, vendors, individuals and companies who are concerned about the growing health risks posed by man-made EMF radiation, as well as interest groups such as support groups and activists.  This helpful directory is growing every day.

The directory is open to the public and you are welcome to freely browse all listings and contact members of the directory directly whenever you need help or advice.  Many professionals offer on-site services, and if one is not available in your area  be sure to inquire about a phone consultation at any  distance using photos and records that your consultant will have professional access to.

Interested in being included in the
EMF Professional Directory?

An EMF Professional Listing

Listings in the directory are self-entered and open to all interested persons and EMF related companies and services. The directory listings are searchable by all visitors to our site, they provide for generous listing description space with images, and allow for member contact through the site privately, without revealing email addresses or phone numbers.
Various EMF listing categories are available for  you to self select, which are explained on the application page, and only take a minute or two to complete.  If you would like to be included in the directory please proceed to the Membership Application page by clicking here.
A Certified EMF Expert Listing
The designation "Certified EMF Expert" denotes that this person has completed the certified EMF training courses and achieved a rigorous 100% proficiency in all training areas, as offered by EMF Experts under the professional instruction of Chris Young, PE Senior Professional Electrical Engineer.  All individuals who complete the training will be automatically listed in the EMF Professional Directory at no charge as a "Certified EMF Expert" (unless they choose not to be listed).
Certified EMF Expert graduates carry a Certified EMF Expert ID Card that signifies they have acquired these training qualifications, and customers and clients are encouraged to ask to see it to verify this.

We, at EMF Experts, stand behind each "Certified EMF Expert" listing, assuring a high standard of EMF protection training and we recommend these Certified EMF Expert individuals as highly professionally qualified to offer services or products to the EMF safety industry or the public.
Certified EMF Experts are trained to offer on-site EMF services, as well as phone consultations at any  distance using site-photos provided to them, along with industry, government and public records that these consultants will have professional access to.
If you would like to be included in the directory as a Certified EMF Expert please view our certified training information to learn more about the certification process .
---
OUR CERTIFIED EMF PROFESSIONAL TRAINING OPENS DOORS!

EMF Consultants are in high demand! Learn some of the ways our graduates are using their highly respected certified training to build their EMF Consultant businesses
EMF Experts and Professional Directory gives our graduates worldwide exposure and excellent online marketing and promotional business support right from the start with a lifetime "EMF Expert" directory membership included in the training.