EMF Meter Expertise
for EMF Calculation
and

Evaluation



"EMF Meter Expertise"

EMF Calculation can be done confidently and easily with this practical self-guided training, written and video-recorded by professional electrical engineer, Chris Young, to guide you through EMF exposure evaluations step by step, beginning with tips on obtaining the best meter for your individual situation, taking accurate meter measurements, understanding and applying the  EMF biological safety standard guidelines, and much more.
It includes numerous how-to-meter videos (hands-on tutorials via streaming video) as well as  illustrative photographs, resources, worksheets, and biologically based safety guidelines.

Written in everyday English with a minimum of math concepts, this training is designed to enable real people to measure their home or office and uncover EMF safety issues. Even the more complicated Electromagnetic issues are "interpreted" step by step from Engineer-Speak into familiar language in order to be less intimidating and more comprehensible, and this approach also includes the helpful see-and-do videos, images, illustrations.

You can get started on  EMF calculations in your environment within minutes, and will find the training course enrollment information, including split payments options, for the EMF Meter Expertise and other high caliber self-guided EMF training courses in the  EMF Experts Classroom
Here is the Table of Contents to give you a brief content overview.

TABLE OF CONTENTS

CHAPTER 1   Why Measure EMF

CHAPTER 2     What to Measure.
2.1   Scope of measurements
2.2   Electric Field
2.3   Magnetic Field
2.4   RF Field.
CHAPTER 3      How to Measure.
3.1   Objective
3.2   What to record
3.3   Environmental Factors
3.4   Position.
3.5   Self performed or contracted.
3.6   Testing Laboratories


CHAPTER 4      When to Measure.
4.1    Day of the Week.
4.2    Time of Day
4.3    For Maximum or Minimum.
4.4    Before and After


CHAPTER  5    Measurement Instruments.
5.1   Types of Meters
5.2    Scales of meters
5.3    Accuracy
5.4    Sensitivity
5.5    Resolution.
5.6    Frequency
5.7    EMF Calibration.
5.8    Directionality
5.9     Probes
5.10   Instantaneous Vs Average
5.11   Noise
5.12   Recording
5.13   Meter inventory

CHAPTER  6      EMF Calculation and Measurement
6.1  Recording instruments
6.2  Peak Vs Average
6.3  Position.
6.4  Direction.
6.5  Environment
6.6  Repeatability
6.7  Units
6.8  Recommendations

CHAPTER 7      Using Measurements
7.1   Compare Standards
7.2   Identify Hot Spots
7.3   Prove Effectiveness of Remediation.
7.4   Locate Sources of EMF.
7.5   Making Choices

CHAPTER 8      Monitoring Changes over Time
8.1   Cyclical Changes
8.2   Progressive Changes
8.3   Activity Changes
CHAPTER 9  VIDEO TUTORIALS & RESOURCES
9.1  Instructional Videos (Kitchen, Bathroom, Bedroom)
9.2  Metering Checklist for Various  Environments,
                        (including Vehicles, Public Places etc)
9.3  Floorplan Sketch for EMF Meter Readings / Annotations
9.4  EMF Standards and Guidelines (Current and Precautionary)
9.5  Quick Unit-Conversion Charts
9.6  Conversion Formulas: EMF & EMR

EMF Calculation & Measurement Guidelines

Included in this training are the sometimes daunting EMF Calculation, Conversion and Measurement Guidelines and EMF Safety Standards that are currently used today by EMF Professionals worldwide, but here you will find them designed to be user friendly and "translated" from Engineer-Speak to (easy to understand and follow) plain English.

---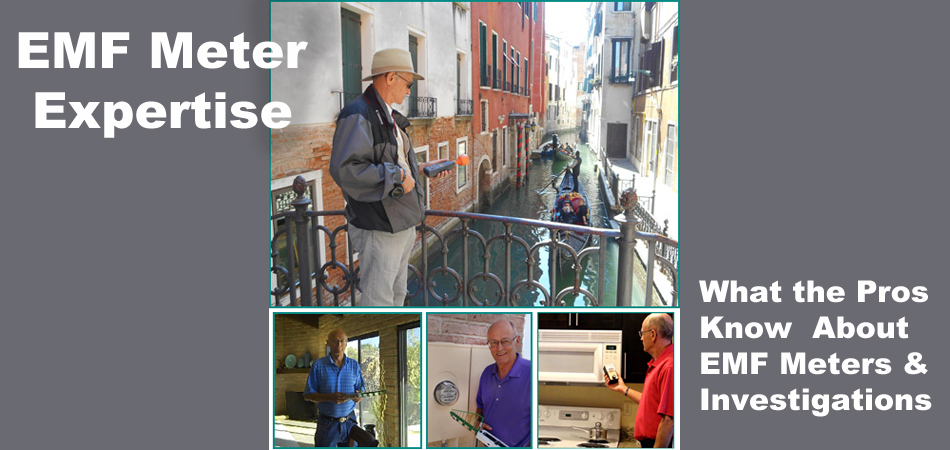 "EMF Meter  Expertise " is an 80 page self-guided Meter Training guide that includes  meter training for those who want to know more about the various EMF meters and how to work with their features and their failings.  It also offers reference resources, worksheets, biolological safety guidelines and more, and comes with an extensive Meter Tutorial Video Library comprised of dozens of EMF detection and protection training videos investigating various common EMF exposure situations using a variety of readily available EMF meters.

Becoming aware of the electro-pollution you are living with is the first step to taking appropriate and effective action to eliminate or at least reduce the threats to your health. This valuable training consisting of a training guide and how-to video library that provides a thorough knowledge of EMF meters, and their specifications, demonstrates dozens of EMF investigations using a variety of meters,  is one of the practical, hands-on, course texts that is key to our certification training.

Find EMF Meter Expertise and other high caliber self-guided EMF training courses in the  EMF Experts Classroom
---
Related EMF Meter Training:
EMF Meter Know How: A Self-Guided Course designed to help anyone, including complete beginners, earn How to Accurately Measure and Correctly Evaluate EMF Exposure in your Environment with Confidence.

This in depth 7-part training course is delivered by stop-go video, and demonstrated with the popular TF2 TriField Meter, but suitable for any brand of three-field meter, or combination of meters, that measures: electric, magnetic and radio/microwave fields. It includes step by step meter measurement worksheets  biological safety guidelines, and a see-and-do training video library that provides you with the know-how you need to use an EMF meter (and particularly the TF2 Meter) with confidence.  See the extensive list of training topics covered in the EMF Meter Know 7 Part Course Curriculum.

Find EMF Meter Know-How  and other high caliber self-guided EMF training courses in the  EMF Experts Classroom
---