Block EMF and Create Your
Healthful Sleep Sanctuary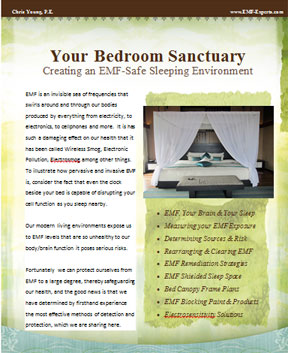 Yes, no mater how EMF-saturated your home, with this valuable new 148 page eBook you can block EMF from your sleep space, giving yourself a respite from relentlessly pervasive EMF and eliminating the rampant cell damage it does, during the most important hours of all – your vital, regenerative sleep time.
Humans evolved in Nature's electromagnetic fields, such as solar energy and gravity, and we are not designed to cope with the constant bombardment of man-made electromagnetic fields. Our modern living environments expose us to EMF levels that pose serious risk to our body/brain function, taking a toll on our health, our sleep, our energy, and every mental, physical, emotional function you can name, by interfering with our well being at the most basic cell level.  Fortunately  we can block EMF and protect ourselves from the harm EMF does by disrupting normal cell function to such a large degree, thereby safeguarding our health, our sleep, our bodies and brains.  The good news is that we have determined by firsthand experience the most effective methods of detection and protection, which we are sharing here in a new ebook in PDF format Which you can order below.

Your Bedroom Sancturary eBook provides illustrated text in addition to easy-to-follow expert video instruction.  Here is a brief outline of the practical, useful content you will receive:

 

·   

EMF, Your Brain & Your Sleep

·    

Measuring your Bedroom's EMF Exposure


·    

Determining Sources & Risks
.     Quick EMF Fixes for most common problems


·    

EMF Remediation Strategies


·    

Rearranging Room, Lessening and Eliminating EMF

·    

Blocking EMF Entirely for Safe Sleep Space

·    

Step by Step Do-It-Yourself Bed Canopy Frame Guide

·    

EMF Blocking Paint, Fabric & Products and Where to Buy


·    

Complete How-To Info, with Costs & More

.     More EMF Personal Products with Providers Index


·    

Additional Important Electrosensitivity Solutions
148 page Training Guide in e-Book PDF format
Includes 4 videos, EMF worksheets, Bedframe canopy building plans,  plus numerous Methods and Strategies to reduce and block EMF in the Bedroom.
 YOUR BEDROOM SANCTUARY TRAINING GUIDE
Is located here in the EMF EXPERTS CLASSROOM
This Training Guide Introduces the
Zero-EMF Sleep Sanctuary Canopy Bed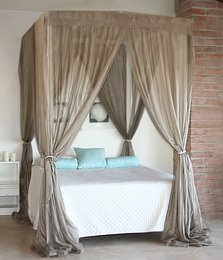 The attractive canopy bed with high performance EMF Blocking fabric and  do-it-yourself bed frame shown here in this video offers a zero-EMF sleeping space. Sleep Sanctuary eBook includes no-fuss no-stress plans with easy to follow diagrams, construction materials shopping list, EMF shielding fabric comparisons and more.
Instructional videos are included in order to illustrate the construction of the bed frame, choosing the fabric, use of the bed canopy in everyday life and more. 
Most importantly we include on video live EMF-Detection Metering inside the canopy upon its completion showing, beyond question, that even inundated with the super high levels of environmental EMF that we were dealing with, a safe Zero-EMF sleep environment can be achieved.

Block-EMF Canopy Bedframe Construction Plans

Block-EMF Bed Canopy Building Plans and easy how-to instructions will enable you to construct this inexpensive four-poster canopy bed frame   structure in an afternoon, using readily available materials, for a total cost of under $70 (canopy-bedframe structure only). 
This DYI bed frame is designed for draping your choice of lovely EMF blocking sheer fabrics with no-sew ease for King, Queen, Double, Twin or Baby Crib bed sizes. Fabric is naturally an additional cost and depends on size of bed, the EMF-blocking fabric you select select, and draping fullness desired, etc -- our step by step worksheets make it all easy to figure out.

Available as Training Guide in EMF-Experts Classroom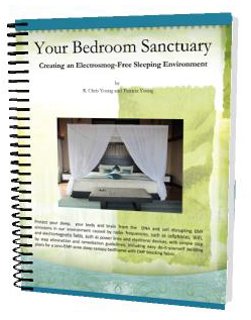 This training guide is formatted as a printer-friendly eBook for ease of use, and future reference.  How-to videos included in the content are conveniently streamed from links in the pdf, and Worksheets, Appendix resources and support material, and recommended tried-and-true products are included.
 YOUR BEDROOM SANCTUARY TRAINING GUIDE
Is located here in the EMF EXPERTS CLASSROOM

---