EMF Expert Training

Firsthand Stories and Testimonials
Here  in their own words, Certified  EMF Expert Training Grads talk about their firsthand experience of certification training, and what they wish they'd known when they were considering taking the training.  Thank you to our gracious graduates for sharing their personal stories ...
What are these Certified EMF Experts saying about their training?
What our Certified EMF Expert Graduates would
like you to know if you are considering training...

A General Contractor who wants you to know why this training is for you: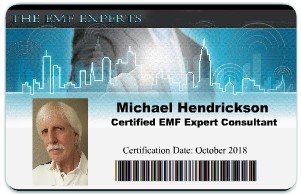 Prior to taking this certification course my knowledge on the subject of EMFs was peripheral at best.  I had read, watched and heard many different opinions regarding the subject that had cumulatively peaked my interest.  The subject of EMF itself seemed to be very polarizing depending on who you talked to.  When I finally figured out that the tingling in my fingers, while typing on my keyboard, was symptomatic of Electro Sensitivity (ES) I had to know more.
     This course was more thorough than I could have ever imagined and taught me not only the basics, but the politics, the unrealistic governmental guidelines, the proliferation on a global scale and what other more forward-looking countries are doing to help mitigate the effects of EMF on their population.  Most of the problems we create in our own homes with unnecessary and highly detrimental Wi-Fi devices, portable phones, cellphones, etc.
     This course further examined in great detail the fields associated with EMF.  They are:  ELECTRIC, MAGNETIC, RADIO FREQUENCY AND DIRTY ELECTRICITY.  This course teaches how each of these fields are created, the biologic impact on ourselves as well as effective ways to mitigate and or shield against them properly.
    From start to finish this course presents to you the history, the proliferation, the biological and health effects, ways and means of testing and remediation techniques in a very well-planned chronological order.  Each lesson builds on the one before it.
     I would recommend this EMF Certification Course to those of you who seek the knowledge to protect yourself in this ever increasing, electro-smog contaminated world. If you are looking to gain the knowledge necessary to help others, whether you want to become an EMF Expert Consultant or have EHS and are trying to help yourself or your spouse navigate through the dangers associated with EMF as safely as possible,
This course is for you!
Michael Hendrickson, Custom Home General Contractor, Seattle area, WA
Certified EMF Expert Consultant

---
An Occupational Therapist looking for ways to help her ever-increasingly ill patients by  cleaning up the EMF to provide a better healing environment

After thoroughly researching several other organizations, I chose EMF Experts because of the impeccable credentials and knowledge base of the instructors, Chris and Patricia.  To say I was NOT disappointed would be an understatement!  Imagine my surprise when they turned out to be as dedicated to my success as I am!  You're not just logging in once or twice a week for a dry webinar.  It's a jam-packed full package with plenty of one on one, warm, human interaction with Chris who is a very patient, professional and encouraging mentor.  No question was too silly.  He addressed all of my concerns and held my virtual hand throughout the whole process and demonstrated his commitment by over delivering at every turn.   I am forever grateful for such a wonderful instructor who presented the voluminous information this course offers in such an organized and thoughtful manner.  I feel like I didn't just begin a new career with (industry respected credentials of my own now) but gained two new friends and colleagues in the process! A-1 experience! Worth every penny and then some!
Sharon Barr, Occupational Therapist, Kansas City, USA
Certified EMF Expert Consultant

---
EMF Expert Training is not just life changing training, but genuinely life saving!

I was looking for information to help my wife who suffered from debilitating heart problems and a multitude of health problems that doctors just couldn't find answers for.  I finally  discovered she was Electrically Sensitive. I received ten fold more value than this course cost. Because this training was so good I will highly recommend it to anyone who shows interest. Chris is an exceptional instructor and his knowledge and willingness to share his knowledge is far better than you could ask for with any course or certification program on the market today. He always answered any of my questions with great detail and precision. I say this with all sincerity, "I thank God for Chris offering this training because the information in this course has literally changed our lives for the better. My wife is already beginning to experience a better quality of life and she is looking forward to feeling better as we implement the information learned during this certification training". 
Tim Holley, South Carolina, USA
Certified EMF Expert Consultant

---
Training that is a beacon of bright light illuminating our way through this sea of electromagnetic pollution!
Your insights are most helpful and valuable. Might I congratulate you on how absolutely elegant your web page and literature are!  Beautifully presented, clearly written and organized with the lay person or student's limitations  in mind;  a goal I wish more technically top heavy enterprises could achieve!!  Perhaps you might do all us citizens a big favor and consider a move to Washington D. C., where they are in desperate need of empathy and clarity.

 Your whole certification program- training, curriculum and lessons- are equally well produced and presented.
And he went on to poetically say ...
In the pale gray atmosphere of EMF, there is a beacon of bright light illuminating our way through this sea of electromagnetic pollution.
Mr.Young and his wife are the real deal...An accomplished professional electrical engineer and an award winning professional health writer have teamed up to produce a beautiful crafted course.  The lessons are highly organized, visually pleasing and written in such a way that the technical language of "science" does not over whelm.  The breadth and scope of the material presented in this course, for this subject matter, is SECOND TO NONE!  A virtual treasure trove of information at one's finger tips.
The "business" side of the course is handled with the utmost integrity. 
Every thing is as advertised and works like clock work. Two thumbs up! 
The course is "painted" on a bigger canvas than I ever thought and I've come away realizing that there is a much bigger "picture" behind all this EMF related technology!  I got more out of the course than I paid for

Steve Richards, EMF RESOURCE, Texas, USA
Certified EMF Expert Consultant


---
Why build a website helping others hear about EMF Expert Training - when you can build a thriving business, and a purpose-filled life!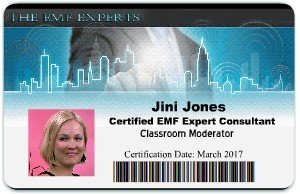 What would I say to someone who is considering taking this training?  Don't wait a minute more!   5G and its new biologically untested millimeter wave frequency technology is bearing down on us, the Internet of Things is connecting everything in its wireless smog, and all around us scientific studies are warning us about the EMF exposure that is literally killing us.  You need this EMF detection and protection information now!

What would I say about my training?  I love the online live classroom learning format, the top notch training instruction, the caring teachers, the see-and-do videos, and (if you can believe it), over 1,000 pages of download training content that filled up 12 binders with professional consultant reference material.  I stepped  from that course into my future as a confident consultant from Day One.  So, those are some of the reasons you will hear every Grad of this course say ... Definitely worth the money.
But even more important, I knew the minute that I took this training, this was going to be a game changer for me. My online business skills had finally found something BIG enough to do on the world wide web, and I found something PURPOSEFUL to do with my life....  Helping to reach a vulnerable world  with much needed EMF detection and protection skills

---
 Kudos from an Author who graduated with awards and wrote a book on healthy living that included a chapter on EMF Safety based on her EMF Expert training experience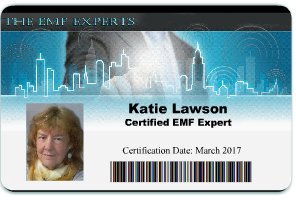 I feel totally blessed and grateful to have found Chris Young and the EMF Expert training online.  I know I received way more than my money's worth by taking this certification course.  This is the beginning of a whole new career for me.

What I found most valuable was all the practical background info on why something was important along with the specific how-to info to deal with it, including real-life situations and recommendations of specific products. Above all, what I most appreciated about this training was his personal attention, answering every email question I had while remembering my background and relating the response to it.
Katie Lawson,  Author, Washington, USA
Certified EMF Expert Consultant
---
An Engineer wants you to know why he highly recommends this training

The course presented by Chris Young is one of the best courses you will find to learn the intricacies of EMF/RF issues found in and around a home or business.  His presentation as to the best ways to determine and find these problem areas leads to a better understanding of the many ways to mitigate them as well. 
The course outline and his enthusiastic delivery keeps the students on their toes throughout the course.  He finishes his course with the best way to establish, grow and succeed in becoming one of the best consultants in the industry.
His willingness to work with his students is a great asset while going through the learning curve, especially for those who may have questions or concerns with what they find.
I would highly recommend this course to anyone serious about becoming an EMF expert.
Doug Staab, Engineer, Phoenix, AZ
Certified EMF Expert Consultant
---
A Single Mom and (Self Confessed) Stressed Out Career Woman is glad she now has better options working from home in a meaningful career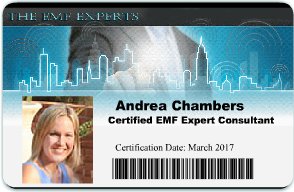 I wasn't sure I should take this course, I'm a single mom, I am really pressed for time and the tuition was a lot of money for me.  But I couldn't be happier that I did!
Now, I'm launching my new career as an Certified EMF Expert Consultant doing meaningful work that I really enjoy; building my new consulting business from home in my spare time, at least for now, while I still hold down the job that has been keeping a roof over our heads. 
Switching seamlessly to a career in such an in-demand field would have been impossible if it were not for this type of training,  For now EMF Consulting represents additional income and a  job security back-up plan, but the way the phone keeps ringing for consultations, soon it will be my full time career and my young family and I will be more personally AND financially rewarded by my being my own boss.
Andrea Chambers, Advertising Mgmt, Portland OR
Certified EMF Expert Consultant
---
Join our growing alumni of Certified EMF Expert Graduates:
 Learn More about EMF Expert Certification Training