What our Electrosensitivity Students
Want You to Know About our Training


We asked our students who struggled with electrosensitivity what they would say to others who were considering taking the EMF Consultant Certification Training for EMF Detection and Protection.  Here is  how they responded in their own words  ...

I was looking for information to help my wife who suffered from debilitating heart problems and a multitude of health problems that doctors just couldn't find answers for.  I finally  discovered she was Electrically Sensitive - which is known as electrosensitivity syndrome. I received ten fold more value than this course cost. Because this training was so good I will highly recommend it to anyone who shows interest.
Chris is an exceptional instructor and his knowledge and willingness to share his knowledge is far better than you could ask for with any course or certification program on the market today. He always answered any of my questions with great detail and precision.
I say this with all sincerity, "I thank God for Chris offering this training because the information in this course has literally changed our lives for the better. My wife is already beginning to experience a better quality of life and she is looking forward to feeling better as we implement the information learned during this certification training". 
Tim Holley, South Carolina, USA
Certified EMF Expert Consultant
---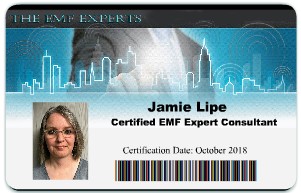 I hope this is not too long, but I have a lot to say!
I am thoroughly blessed to have been able to take the EMF Experts
certification training course! My health began suffering greatly in 2014 and
the next few years consisted of doctor after doctor with no answers and no
help. In 2018 after telling yet another practitioner about my long list of
seemingly unrelated symptoms, she helped to identify that I had a
sensitivity to EMF. I was stunned after so many years of research into my
health issues to just be discovering this! So I jumped head first into
learning everything I could in order to regain my health and life again! I
learned that I had in fact become Electro Sensitive (ES) like so many people
are becoming today because of the exponential increase of everything
wireless as well as other EMF in the environment. The topic of electrosensitivity quickly grew into a new passion for me, especially in light of how much it had derailed my health, so when I found EMF Experts and the training they offer to become certified as a consultant, I knew I had to do it.
The training is top notch! Chris does an outstanding job going through all the aspects of EMF and is very thorough. His wife Patricia (a health author) teaches on the biological effects of EMF and also does a great job painting a clear picture of why precautions must be taken to preserve our health!
What I appreciated the most about this training is the time Chris took to answer all my many questions, as well as everyone else's questions in the class, making sure we all were  informed and had the answers we were needing. Gleaning from his insight and expertise as an electrical engineer of 40+ years was priceless.
I know  firsthand that Chris is completely committed to seeing everyone succeed that takes this course! I am now equipped with a new direction in life, the tools I need to protect myself and my family and friends, and the ability to help others that are wanting to protect themselves and their children from the growing electrosmog crisis, and with it the growing electrosensitivity that we are all faced with. If you are considering taking this training course, my advice to you is JUST DO IT… The world needs
you!
Jamie Lipe, Singer/Songwriter, Texas USA
Certified EMF Expert Consultant

---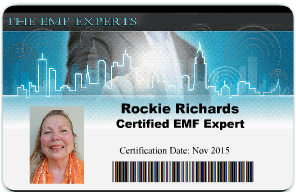 As a former high school teacher, EHS sufferer, and recent graduate of EMF-Experts' 12 week Consultant Certification Training, I absolutely must give Chris Young an A+! 
His detailed presentations were up to date and gave me a clear understanding of EMF's, their dangers, and their remediation. All materials were explained in an easy-to-understand and friendly manner and were indexed in front of each lesson so that I could refer to them rapidly when needed. Every supplemental download provided a wealth of information that was ready to use.  His recommended electrosensitivity resources and accessible videos are valuable tools with powerful impressions that I can use with my clients to get the message across about EMF's. 
He valued me as a student by answering every question I had---no matter how simple or silly. And, more than anything, he probably saved my life by VERY STRONGLY encouraging me to send a letter (he even provided a sample letter) to my electric company to IMMEDIATELY remove the dangerous Smart Meter that repeatedly kept causing my Atrial Fibrillation.  I am forever grateful for his gracious sharing of knowledge and for inspiring each of his students to make a difference in the lives of others.    

Rockie Richards, Retired High-school Teacher, Texas, USA
Certified EMF Expert Consultant
---