Detect and Protect from EMF
with Self-Guided Video Training


EMF EXPERTISE IN ACTION:
Self-Guided Training lets you detect and protect from emf in your environment with the most convenient course of all the training courses we offer, and also the least expensive. Developed especially for those who want quality specialized training but prefer to learn online, at their own pace, on their own schedule, unconcerned about attaining certification for consulting or other professional credentials.
Enjoy a 12 Minute Video Tour:
Meet Your Instructor, Chris Young P.E.,
and take a look Inside the Online Classroom

This self paced online video course, which once sold for $949, has now been broken down into more bite-size, stop-go, inexpensive modules that are available conveniently online 24/7 in self-guided training format. 

These "Ready When You Are" smaller courses are definitely the Easiest, Fastest, Most Convenient Way to Get Started - and that is why you will see them listed as continuous training in the Training Events Calendar 
Or go directly to the EMF Experts Classroom and peruse all the courses available - including FREE  try-before-you-buy courses. You'll see the "Ready When You Are" courses collection, and you can click on each one to read its  detailed self-guided course content and enrollment/payment details (each is priced differently and separately).
Below we have left in place the former training content that has been re-incarnated into its new inexpensive,  user-friendly Ready When You Are format.
And YES, each module still awards you with a Certificate of Completion, and still leads to EMF Consultant Certification (if desired).

---
Learn How to Detect EMF Correctly
and Protect from EMF Effectively

Our EMF Expertise in Action course is all about action, helping you put our expert knowledge in action and at work for you right away, teaching you how to detect and protect from emf  in 10 one-hour video lessons, with practical download support material and bonus features included in each class. The course can even be completed in a weekend for those motivated to do so.  It does not include live interaction with the training instructor, nor any hands-on assignments, field trips etc., however the online final test results are reviewed and responded to by the instructor firsthand, in order to qualify the student to receive the Award of Completion certificate.

RECEIVE CREDIT TOWARDS CERTIFICATION

Training Topics Include:
              EMF Shorthand of the Basics
EMF Concepts: The Underlying Physics and Science Made Easy
Understanding Man-made EMF vs Nature-made EMF
New Survival Skills: protect from emf burgeoning in our environment
EMF Regulations and Precautionary Standards

EMF Detection Methods, Measurements and Their Meanings

Selecting the Right EMF Meters and taking Accurate Measurements
Using your EMF Meters like a Pro (lots of watch-and-do videos)

Interpreting Meter Measurements and their Implications Correctly

Assessing your Dirty Electricity and other Tricky Detective work
Revealing High Magnetic Fields from Faulty Wiring and Stray Current

Locating Hidden Sources of Dangerously High EMF Exposure
Evaluate Body Voltage and other Personal EMF Exposure Levels
Grounding Yourself effectively observing sound EMF principles.

Determine levels safe from Dirty Electricity's voltage AND current

Investigating Your Home Wiring for Common Sources of high EMF

Exposing Anomalous Electrical, Magnetic and Microwave EMF Fields

Protect from EMF: Strategies and their Practical Applications

Total Elimination of EMF Sources in your Living environment
Shielding for Reducing Electric, Magnetic, Radio/Microwave Exposure

Mitigating and Re-mediating  Existing High EMF Exposure Situations
Managing Difficult EMF Situations to Achieve Best Possible Protection
Identifying the Best Shielding/Blocking Products for each Situation

Knowing materials to  protect from emf and their correct application
Reducing your Environmental  Impact and Ambient EMF Exposure
Effectively Opt Out of Smart Meters, WiFi and other EMF-services

Reducing your Nearby Neighbor-Generated EMF Exposure
Extra challenging EMF Exposure Situations and When to Simply Move
Situations that Necessitate a Professional EMF Consultant

Locating an EMF-Free living location, Web Search, Realtor help etc.

Health Support for EMF Related Situations

Health considerations and current EMF Research advice

EHS and ES communities worldwide (also related to EI, MCS, GWI etc)

EHS Biomarkers, Lab Tests, List of Doctors, Clinics, Self-Test Labs

Biological & Nutritional Support for DNA, Immune and Brain Function
Defending your body's own electrical systems from EMF Interference

Special Needs of at-risk Groups: Children, Elderly, Immune Deficient
Health Insurance and Knowledgeable EMF Health Care Resources

Protect from EMF with your own EMF Proliferation  Protection Plan

Prudent EMF Personal Protection for coming 5G and Future Trends
EMF Advocacy, political action and recent legal developments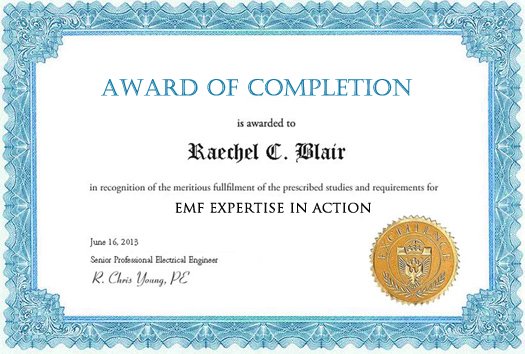 Frequently Asked Questions


What Qualifies Me to Receive my "Award of Completion"?  
Each  self-guided course is comprised of video lessons (with download supporting material for each lesson), and an Award of Completion  certificate is presented online upon completion of the course. 

How does this training differ from the certification course?
The Self Guided "Ready when You Are" training is self-paced online whereas the certification classes are held on a learning platform at a regularly scheduled date and time. The self-guided courses are designed to educate in key EMF Detection and Protection actionable skills, whereas the certification course is designed to graduate students wanting credentials to become professional EMF Consultants.  That is why the certification training content goes into much more depth, and includes field work, hands-on assignments, quizzes, tests, reports and interactive class discussion, and unlimited one-on-one access to the instructor. 
Will I need to buy any equipment for this course?
We recommend purchasing the EMF meter(s) that your training videos will demonstrate to you, as you learn EMF meter measurement methods to investigate your environment to assess your EMF exposure levels, however you are free to use any meters that you already have, or none at all.   We also recommend books, videos, shielding material to protect from emf etc., which are all optional purchases for your use during and after training.
Will I be included in the EMF Professional Directory  (like Certified graduates are) when I have achieved the Award of Completion ?
Yes, upon request, you can be included as an EMF Specialist (a non-certified designation), which will enable you to offer such  things as writing/blogging services for EMF topics, Electrosensitivity support group leader, products that help technology consumers protect from emf, and many other non-certified  types of expertise and services.
Where can I print out the Syllabus and Training Topics for this course?
The topic outline for all courses is included in the Training Info-Packet, which you can have automatically emailed to you, using the request form below.
We also invite you to watch the 40 minute video, "Introduction to Certification Training" to learn more about all the training we offer, which will be helpful in getting a big-picture of the training possibilities open to you - whether self-guided or live interactive training.
---
All Training Courses: Training Info-Packet Request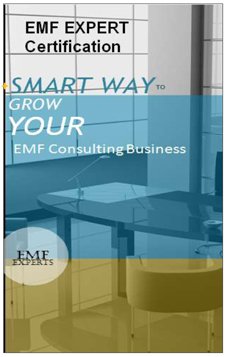 For the complete 14 page certified training info packet with descriptions of all training courses including self-guided, online and seminar certification courses, with detailed syllabus, instructor bios, upcoming training dates, and current prices with any discounts available, please bounce  us a download request using the  form below: