EMF Classrooms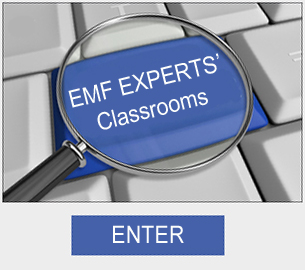 Enjoy Free Bonus Classes,
Try out the Learning Platform

Get comfortable and confident with EMF Classrooms' platform and the experience of online learning, by enjoying a couple of FREE bonus classes from the course catalog:
Living With Future Technologies: 

Insights and explanations of the interesting questions regarding new technologies and how they can impact the future of man.




The Basics of Ohms Law:  

the Relationship between Current, Voltage and Electrical Resistance, which is one of the laws of Nature and Physics that underlies the study of electromagnetic fields.
You'll also find inexpensive quick courses on such topics  as Electrical Safety and Cellphones & Driving, in addition to the more extensive training courses dealing with EMF Detection and Protection: EMF Expertise in Action (10 self guided classes), and EMF Consultant Certification  ( 20 hours of  live instructor-led classes, plus lots of one-on-one mentoring).
---

A Quick Guided Tour of our EMF Classrooms

If you are new to our EMF Classroom learning platform,  you may enjoy taking this  12 minute guided tour to familiarize yourself with the functions of the course selection, featured course prices, course payment, classroom features, student areas, and more.
When you have finished your guided video tour, 
"Enter Classroom" to proceed to the featured course page.
Click the Course Catalog (top menu) to view all
courses currently offered, including the FREE bonus classes.
---
---
Copyright Notice
Please remember this course  training material is the property of EMF Experts,  for which we retain intellectual property rights, including the copyright of the material, source code,  and in some cases the patent rights.

It is for your educational use as an enrolled student only;
please do not share/sell these proprietary class training documents
  with anyone.  Thank you. Chris