EMF Documentary Library
EMF Documentary Collection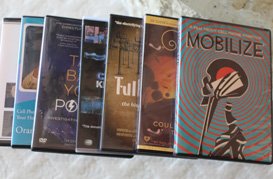 This library of EMF Documentary topics cover a range of topics related to EMF protection from electrical and magnetic fields, radio waves, ionizing and non-ionizing radiation, and wireless transmission (cellphones, WiFi, mobile phones, bluetooth etc. etc). 
You will also find data, interviews with industry experts, information on consumer safety and EMF activists issues, safety standards, historical background about the problem facing us today, as well as current events.  Although each EMF  documentary in  takes into account the entire EMF issue in the larger sense, each one also has its own particular focus.  Read the reviews to find the DVD dealing with the issues you are interested in.


---
MOBILIZE: A Film About Cell Phone Radiation
Above Picture:  Medical Imaging - Cellphone Effects on Your Brain
Mobilize Documentary Description
"In 2011 The World Health Organization stated, "The electromagnetic fields produced by mobile phones are classified by the International Agency for Research on Cancer as possibly carcinogenic to humans."  The cell phone industry has vigorously disputed these findings ... "(from the DVD cover)
Mobilize is an explosive investigation documentary that explores the potential long-term health effects from cell phone radiation, including brain cancer and infertility.  This thought provoking EMF documentary film, with dozens of interviews by experts in EMF related fields, examines the most recent scientific research and the harsh challenges politicians face trying to pass precautionary legislation. Featuring interviews with expert researchers, mobile phone industry representatives, and prominent politicians, Mobilize illuminates how industry's economic and political influence can corrupt public health.
Produced 2014
84 mins. English
Director: Kevin Junze


---
TAKE BACK YOUR POWER:
                      INVESTIGATING THE "SMART" GRID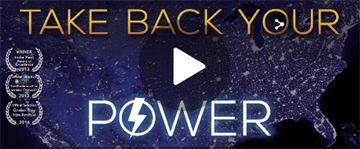 A MUST SEE.  This Documentary is winning awards worldwide.

"Take Back Your Power" is the ground breaking documentary film that is waking North America up to the dangers of smart meters, cell towers, and wireless technology in all its burgeoning forms!
This video take us on a journey of revelation and discovery, as we question corporations' right to tap our private information, erode our rights, and risk our health in the name of "green". What you discover will surprise you, unsettle you, and inspire you to challenge the status quo.
This newly released (October 2013 and updated 2014) documentary will help you learn what you need to know about the health, safety, privacy and legal rights related to the smart meter programs and other wireless technology being deployed throughout the world.
2013, 2014
85 or 104 mins. English
Director/Producer: Josh  del Sol

---
MORE EMF DOCUMENTARY REVIEWS TO COME ...

Listed in Order of Most Recent:
GROUNDED: COULD IT HAPPEN TO YOU? - 2013   74 mins movie, English


CELL PHONES, WiFi AND THE WIRING IN YOUR HOME: EMF HAZARDS AND SOLUTIONS - 2013  30 Minute Talk by Oram Miller   90 mins,  English


IS YOUR CELL PHONE KILLING YOU? - 2011   45 mins movie,  English


CENTER FOR SAFER WIRELESS PRESENTS EVIDENCE OF HARM
(Wireless Safety Summit)  - 2011  90 Minute Talk,  English
by Prof Martin Blank and Dr Devra Davis


FULL SIGNAL: THE HIDDEN COST OF CELL PHONES - 2010  62 mins movie, English


PUBLIC EXPOSURE: DNA, DEMOCRACY AND THE "WIRELESS REVOLUTION" - 2004  movie, English