Free EMF Webinar

Why would anyone want to become an EMF Consultant?

What Can you Expect from the Free EMF Webinar intro?

This brief Free EMF Webinar overview below was filmed at EMF Experts' "mission control" as an impromptu invitation, inviting you to enjoy learning more about what certification can do for you, in the full 40 minute "Introduction to EMF Certification Training" presentation, which you can attend for free. You'll find it conveniently available for 24/7 on-demand-viewing, in the Events Calendar (right menu button).

Ready to Proceed with Your Free Training Intro Class?


To watch "Intro to EMF Expert Certification Training", the free EMF Webinar video (recorded recently at a live presentation event), click over to the EVENTS CALENDAR where you will be guided to the registration page for instant access.  This video presentation is posted online for your anytime-convenience; however  if you prefer to attend a live online Intro class (containing the same or similar content), you will also see registration available for those upcoming event dates.

Think of the introduction as your free bonus class.  It is the first webinar class in the training, designed to introduce you in detail to all the training material to come in the next twelve online certification training webinars. This webinar will also demonstrate for you how our webinars are delivered on a user-friendly conferencing platform. This will give you a much clearer idea of how training works, what the actual training covers and what EMF Expert Consultant certification has to offer you.   Then when you are ready to go forward with your certification training ...


Got Your Training Info Packet Yet?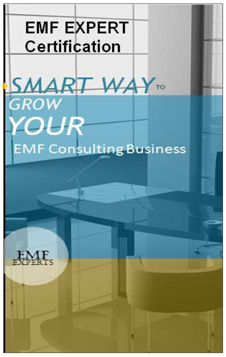 For the complete 14 page certified training info packet with descriptions of both online and seminar courses, detailed syllabus, instructor bios, upcoming training dates, and current prices with any discounts available, please bounce  us a download request using the  form below:
PRIVACY ASSURED: You're contact info is never sold, shared or used to spam you.  

---
Ready to Get Started Now
and Pick Your Certification Training Date?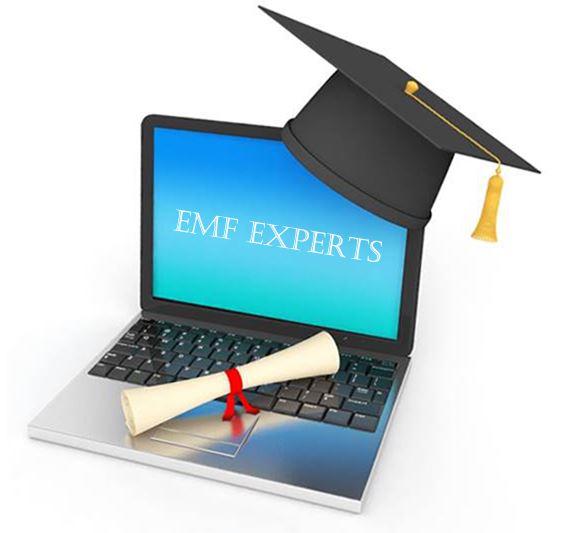 After you've watched the free EMF Webinar Introduction to EMF Expert Certification Training,  learned in greater detail the who/what/when/where/how of certification training, and felt that this training is the right decision for you ....  the next step is to reserve your training spot in one of the  upcoming online certification courses (a series of 12 classes), which you will again find listed in the Events Calendar.
FIND THE NEXT AVAILABLE TRAINING START DATE
You can easily Identify the next training start date by locating the first class - with the EMF Experts webinar graduation icon - in the Events Calendar.

This first class - designated as EMF C12-1 or EMF C6-1 -  is where you will register for the all the subsequent training classes to come in that course.  No financial info is required to register online. 
Once you've registered you will receive  payment instructions by email, and your spot will be held for you for a reasonable length of time to enable you to mail in payment. Your attendance in the course will only be confirmed for you once payment is received. 
GETTING STARTED TIPS

Classes fill up quickly,and there is limited enrollment to keep the instructor-access quality of these live certification classes high.
Live Training courses that are completely filled and unable to accept new registrants are noted in the Events Calendar as "registration closed". 

Registering for self-guided training on our university style online platform may offer you the possibility of getting started sooner and more inexpensively (also keeping in mind that 75% of tuition for this non-certification course can be credited towards certification training within one year), however this self-guided training course too has limited enrollment of 25 student/participants per month. 

Don't be disappointed, register early for the training you want.