EMF Consultant Training Questions

Here you will find the answers to our most often asked
EMF Consultant Training Questions:


My first EMF Consultant Training Questions is:
I register for my training dates ... What happens next?  Do I need to do anything to get ready for this course?
Following registration in the Training Events Calendar, the next step is to make sure your payment is received and your seat firmly reserved for your registration dates.  Classes fill up quickly, especially as the date draws nearer, so be sure to secure your spot with payment and follow-up to make sure it has been received.
Upon receipt of payment you will be receiving your "Getting Started" email, which will outline steps for such practical preparedness, such as preparing a filing system or a binder system to collect the class notes that you will be receiving by email in pdf format at the end of each class. At each step in the training process, you will be sent guiding info to help you with the next step, the next class, etc, so watch your emails closely.

 How much additional time should I expect to complete assignments or study the material, in addition to the time spent attending the live webinar classes?
There will be assignments and tests required to obtain certification. The time spent preparing homework and studying depends entirely on you. To obtain certification passing grade you will receive homework assignments that count towards your score on your 'progress report card'. At the start of the course you will receive the grading procedures, and each class you will receive the required assignments and their score value, which will be used to count towards your EMF Consultant Certification passing grade.  We recommend completing all assignments on time to get the most from this certification training, which builds quickly, one class upon the next, and this typically means dedicating an additional two hours of homework time per class to stay abreast.

Additionally, the written class material is very extensive and you will receive over 60 pages of notes following each class, mainly to provide you with more additional informative material than can be presented in a 1.5 hr class.  This material is intended to serve you with more related in-depth information on a specific area of interest to you. It is not required that you read all the class notes, only what you wish to specialize in.  Or to study/review those notes that will be tested in the periodic open-book tests.
Do I need to purchase any equipment/tools needed before the course begins?

No you do not need to buy any equipment.  Meters, books etc. will be recommended for purchase during the course at the appropriate time for their training use. The EMF Metering training (Class 9) will provide you with information to enable you to select a meter for your specific intended use. In the course of training, you may find that if you already own a meter it will be suitable.

What should I budget for EMF Meters that will be required for this training?
 Basic EMF Meters typically cost between $150 - $400 each, and you will need at least two kinds: one to measure electrical/magnetic fields, and one to measure wireless radio/microwave fields. You will have a range in price,  features, and other options to consider, in addition to a wider assortment of more expensive (more accurate, better  range, more convenient etc) professional grade meters.  While we recommend budgeting $350 - $400 for two basic meters, you may find during the course of training that this is less, or more, than you need or want to spend.  There is a meter for every budget however, like most things since you get what you pay for, we recommend the best quality you can afford.

  What happens when I miss a webinar class? Is there a way to make it up or to catch up?
This is a live instructor-led class designed to offer you distinct advantages so it is important to participate in the live presentation in order to benefit from such things as being able to ask questions and keep current with fast changing news.   Since it is presented in-person it will contain more current up-to-the-minute information than a previously recorded version could. The live presentation will also typically include other related information than that contained in the class notes that are provided to you at the end of every class.    That said, each class has been pre-recorded, and (by special arrangements only) we can make it available to you online for a 48 hour period, in cases where it is absolutely necessary to miss a live class.  
However, if you prefer online recorded classes at your convenience better suited to your needs, your learning style, or your schedule, you will find the EMF Expertise in Action self-guided course entirely designed for self-paced learning.  EMF Expertise training does not provide certification, however it is designed to lead to it if desired.

Have More EMF Consultant Training Questions?
Find Answers to Practical Questions and Common Concerns ... 
---
 Our training info packet below is also full of helpful info: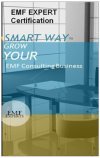 For the complete 14 page certified training info packet with descriptions of both online and seminar courses, detailed syllabus, instructor bios, upcoming training dates, and current prices with any discounts available, please bounce  us a download request using the  form below and get all your EMF Consultant training questions answered: