EMF Home Protection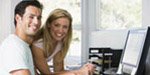 OUR NEW EMF HOME PROTECTION
Do-It-Yourself GUIDE:
"Home, Sweet EMF-Healthy Home:
  Your Guide to Do It Yourself EMF Home Protection"
             Written by R. Chris Young, Senior Electrical Engineer
             and Patricia Young, International Health & Wellness Author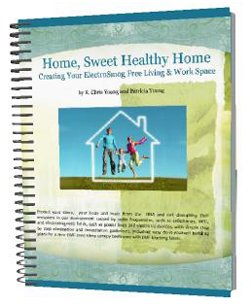 This is the complete EMF Protection guide for your home that you've been looking for - packed with value -- to protect yourself from invasive wireless pollution at far less than the cost of a professional remediation consultation.
This helpful, informative downloadable eBook gives you an easy to follow, step by step guide with hands-on video demonstrations showing you how to measure your home and office environment for EMF (electromagnetic fields  from powerlines, electricity, appliances, etc.) and EMR (electromagnetic radiation from cellphones and cell towers, Internet WiFi, wireless devices, etc.), as well as how to detect dirty electricity and other types of EMF-gone-bad and rogue EMR.
You will also learn easy ways to interpret your EMF measurement results (based on international safety guidelines), assess your levels of exposure from various sources, and form an EMF home protection plan for your situation.

Lots of info for understanding what EMF is, what it does, how it does it, where to expect it, and why you want to be protected from it. It includes scientific studies with health safety recommendations from experts, and insightful personal stories of Electrosensitivity experiences.
You'll also appreciate the value-packed detailed section dedicated to practical, inexpensive EMF remediation tips, techniques and products (complete with expert reviews) that you can use - starting today - to safeguard your family from the health risks of invisible electronic pollution.  Advice that would cost you hundreds of dollars to receive from an EMF on-site consultation.

This guide is a tremendously valuable resource that you won't find anywhere else except on our site!
This helpful value-packed guide will give you:
how to determine your EMF risk, exposure levels, sources etc., at home or at your workplace,


how to measure EMF and assess your measurement readings,




applied solutions for creating EMF-safe and EMF-free environment,s




step-by-step illustrations of many of the same home remediation methods used by us and our trained experts,




easy to follow how-to video instruction by Chris Young, the author and  Professional Electrical Engineer you have seen throughout this site,




tried-and-true personal, home and office EMF and EMR shielding product recommendations and reviews,



cost saving, time saving, EMF mitigation alternatives,
 ....   and much more -
Want to know when our soon-to-be-released download Guide  is ready for release? 
Request "Home Sweet EMF-Healthy Home " Today at 50% OFF

50% off the regular price of $49.99 - that's only $24.49.

To get this special price simply copy and paste the words "EMF Healthy Home" into your email subject line, and send it to us along with your email address ... we'll let you know the minute it is ready for order at your pre-release discount pre-order price. No money now.

All Pre-release notification requests received will be honored at 50% off the regular $49.99  price (packed with value yet designed to be far less than the cost of a professional remediation consultation) - delivered by instant download pdf embedded with streaming video.
WANT TO GET STARTED CLEANING UP EMF IN YOUR HOME TODAY?

Then you'll want to begin with the one room you spend the most important time in - your bedroom.  "Creating Your EMF-Safe Sleeping Sanctuary" is available now by instant download to enable you to get  started creating your EMF Safe Sleeping Environment right now.
Or look into our EMF Expertise in Action self-guided training and learn how you can learn all this and more and begin putting into practice everything you need to know to safe-guard your home  right away, while earning tuition credits towards becoming a Certified EMF Consultant in the future.

-----------------

Any EMF Protection topic you are particularly interested in? Please contact us with any topics you'd like to see included in the guide, or any questions about EMF Home Protection.