Wireless Identity Theft Protection

Efforts are currently under way to educate consumers about wireless identity theft, and the vagaries of Radio Frequency Identification (RFID) which can pose a threat to both safety and privacy. Additionally, concerned identity theft protection groups are attempting to initiate legislation to limit the use of RFID technology by companies and governmental agencies.
The concern is due to the tens of millions of cards that have already been issued data can be, and is being, stolen via special low cost radio frequency (RF) scanners without the cards being physically touched or removed from their owner's pocket, wallet, purse or carry bag.
What can I Do to Protect Myself from RFID Wireless Identity Theft?

These little cellphone cases are the answer!   In addition to EMF protection from the microwave radiation emissions of your cellphone, the anti-radiation blocking also keeps your credit card info safe from identity theives and wireless hackers!"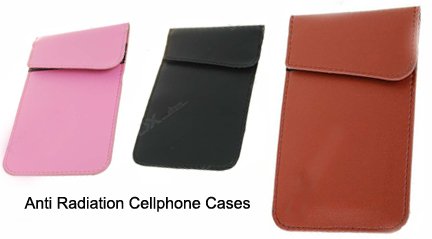 What is RF Wireless Identity Theft and Why Should I be Worried?

Wireless Identity Theft is a relatively new technique of gathering an individual's personal information from RF-enabled cards carried on a person in their credit, debit, or government issued identification cards, such a passports.
Each of these cards carry a Radio frequency identification chip which responds to certain radio frequencies. The response can contain encoded personal identifying information, including the card holder's name, address, Social Security Number, phone number, and pertinent account or employee information.
Upon capturing (or 'harvesting') this data, thieves are then able to program their own cards to respond in an identical fashion (via 'cloning'). Many sites are dedicated to nothing but teaching people how to perform this act, as well as supplying the necessary equipment and software.
The financial industrial complex is currently migrating from the use of magnetic stripes on debit and credit cards which technically require a swipe through a magnetic card swipe reader. These transactions take approximately 48 seconds, whereas the newer radio frequency tagged card transactions require approximately 12 seconds. The number of transactions per minute can be increased, and more transactions can be processed in a shorter time, therefore making for arguably shorter lines at the cashier.
The Risk Posed by Compromised RFID-Enabled Credit Cards
Read the results of the 2006 RSA Report  - "Vulnerabilities in First-Generation RFID-Enabled Credit Cards" -showing how the personal data contained on millions of cards that have already been issued data could be stolen via special low cost radio scanners without the cards being physically touched or removed from their owner's pocket, wallet, purse or carry bag.
Among the findings of the research study, and in reports by other white-hat hackers were some very sobering identity theft and personal privacy and safety concerns, and that report is definitely worth a serious read.
Buy your Credit Card protection Sleeves Here.

Compromised US Identification Documents
Certain official identification documents issued by the U.S. government, U.S. Passports, Passport Cards, and also enhanced driver's licenses issued by States of New York and Washington, contain RFID chips for the purpose of assisting those crossing the U.S. border. Various security issues have been identified with their use, including the ability of black hats (internet slang for "bad guy" hacker) to harvest their identifier numbers at a distance and apply them to blank counterfeit documents and cards, thus assuming those people's identify information.
Various issues and potential issues with their use have been identified, including privacy concerns, BIG Brother concerns and Stalking.
Keeping yourself and your family's health, privacy  and financial wellbeing safe by the smart use of RF blocking and EMF shielding products is highly recommended. Order your RF and EMF protection today