EMF Action:
Talking to Your Friends 
without Losing Your Friendships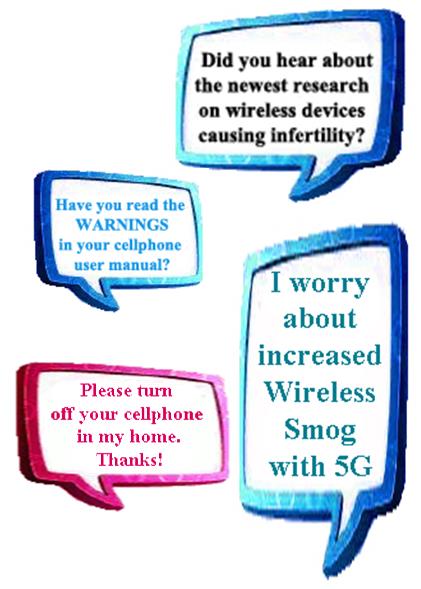 You see the need for EMF action, but you're having trouble finding your voices,  and when you do speak up people just don't seem to want to hear it. 
So, how do we talk with people - especially  friends and family that  we care so much about - when it comes to the issues of EMF pollution, and how can we do it well?  
That is the ONE question that we are asked most often in our EMF Expert Consultant Certification training classes;  it's a very good question and also an important one. 
So, we sat down for a casual conversation with some students in one of our seminars to share out thoughts of what has worked, and not worked, for us.  Since we are so often asked this question, we recorded the conversation (16 mins) and put IT into a 'talking points' download to provide easy to remember tips and suggestions.   Hope it helps.

How Do I Talk to Friends about EMF Issues
Without Losing Friendships!?

Talking Points Summary:  download the 3-pg summary of the talking points in this video to serve as a bullet list reminder when planning to initiate a "talk" - whether a casual info-encounter or a deeper meaningful conversation.
Video Transcript: download the 8-page transcript of the entire video with the suggestions and ideas shared by Chris and Patricia in the video; helpful "been there" guidance for talking about EMF issues with friends, and being heard, without alienating them unnecessarily.
HELPING FRIENDS RESPECT YOUR "NO CELLPHONE ZONE"

Another support tool we created for friends is a one-page Airplane Mode & Call Forwarding guide to help give them the cellphone skills needed to observe the  No CellPhone Zone signs posted in our home and workplace where everything is wired and not wireless (by choice).

More EMF Action Support Tools

EMF Action and EMF Awareness Support Material - a large collection of print-ready trifold brochures, posters, letters, stickers and much more for distributing to your school, neighbors, utilities etc.
"EMF Activists in Action" Video Training - this 50 min video  course has been given by health author, Patricia Young,  to groups of concerned citizens seeking information on how to organize EMF Action groups for dealing with such issues as Banning WiFi in Schools, Dismantling Celltower installations, Removing Smart Meters, and other EMF Issues, as well as looking at what various successful groups around the world have done to achieve these kinds of goals.
EMF Humor, Cartoons and Jokes - for when you just want to lighten it up your conversation a bit, or Comical Videos  to post something amusing on your social network that communicates "many a true word spoken in jes