Cell Towers Stealth Invasion

THE INVASION OF THE CELL TOWERS
They are everywhere you look, and even many places you look but can't see.  These towers in disguise are often referred to as stealth towers, and they are part of the cell carrier expansion strategy to enable them to infiltrate neighborhoods who object to "the visual pollution" of bare towers.
This feature segment on the CBS Early Morning Show in 2006 shows the many celltower disguises used to overcome objections, erecting towers in the form of  pine trees, lighthouses, water tanks, church steeples, billboards, art sculptures, lamp-posts, flagpoles, etc., as cellphone carriers anticipate the ever increasing need to provide more/stronger signal coverage to their burgeoning number of cellphone users.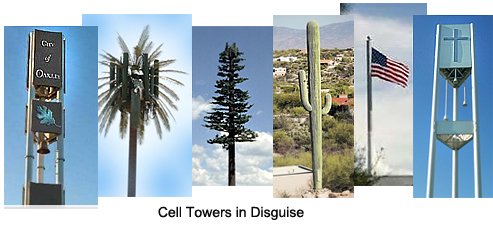 THE RAPID, RAMPANT PROLIFERATION

Cell carriers are aggressively approaching landowners and offering leases to erect these towers on private land, and offering "wireless landlord" lease deals to office building and apartment building owners to use their roofs for their installation sites. 

Secondary industries have also sprung up offering related services, such as appraisal companies to assess your property's potential cell site's value to the cellphone carrier, companies who will broker established cell site leases for a lump sum payout, or audit your cell site, or inspect your cell tower for compliance with safety codes.
Or, in the case of EMF Experts we can help audit your site for the EMF health safety concerns of chronic low-level microwave radiation exposure.

There are also manufacturing companies who create trees, lighthouses, water tanks, church steeples, art sculptures etc., whatever external structure is needed by the cell phone carriers to hide and house the microwave broadcasting towers and overcome community resistance to towers in their midst.

Tempted by the lure of extra income from a cell site on your property?
Churches, schools, public building, highrise landlords, office building owers and private individuals alike are succumbing to the temptation of easy money leasing their steeple, facility, or land for  use as a cell site. 
Today, even lovely historical landmarks like the Taj Mahal in India and century old churches right in your neighborhood have opted to become cell towers in disguise as a means of gaining extra, passive income. 
But is income from agreeing to allowing a cell site on your property worth the possible and/or proven health risks?
Additionally, during a time when the wireless industry is constantly evolving and so are their terms, lease contracts are not always as equitable and reliable as many wireless landlords believe.
Learn more about a Cell Towers' Audit, including caveats about leasing your land or building to cell carriers for use as a cell site, contracts, and how to determine the heatlh risks in your individual situation.