Smart Meter Opt Out

Here is the simple Smart Meter Opt Out, analog meter change-back request letter that we ourselves used for three different homes we owned in the Tucson Electric Power area in Arizona, USA.

We've also used this same simple request letter format to request an analog Gas Utility Meter and Water Utility Meter.  Each time our request was honored, and so we advise you to begin with this type of letter.  Might help, can't hurt.  
Although each Utility has its own rules and policies, we've found that many times opting out can be as simple as making a polite, concise, request in writing.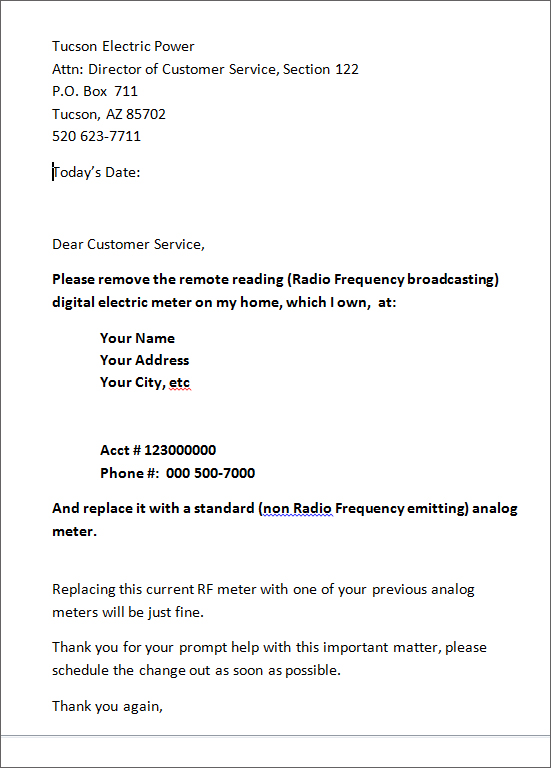 Smart Meter Opt Out Fees?  Some USA Examples

APS (Arizona Public Service) serving the Phoenix and central Arizona area, and TEP (Tucson Electric Power) serving southern Arizona area, in response to consumer push back, no longer has smart meter opt out fees, since they were rescinded by the Corporation Commission in 2015. Arizona Opt Out Fees Rescinded 2015
How Does Arizona's ZERO OPT OUT FEES Compare for with Other States?
While there are a few (and growing) number of OPT OUT FREE states such as  Vermont, Virginia, and a few (and growing) number of utility service areas, such as Kauai HI and Ashland OR, most states charge Opt Out fees as a disincentive.  Here are some typical examples:

$75: Setup charge for Pacific Gas and Electric Co. and Southern California Edison in California for customers refusing smart meters, plus $10 a month.
$10: Setup charge for low-income customers of PG&E and SCE who refuse smart meters, plus $5 a month, which is discontinued after 36 consecutive months.

$52.86: Setup charge for NV Energy customers in Las Vegas, Nevada, to refuse smart meters, plus $8.82 a month.
 $20  Set & $10.50/mo for a radio-off smart meter or $40 & $12 electromechanical meters in Maine.
And within states various cities have their own way of doing things:
$254 Set Up & $51/mo in Portland OR
$11/mo in Baltimore Maryland, where Baltimore Gas and Electric Co. customers  pay the lowest monthly opt out fees.
In every case the utility companies had asked for higher fees and these are the fees that were settled upon when their requests were reviewed by their governing bodies..

NOTE:  These are current examples and subject to change