Reviews for
OverPowered by Dr. Martin Blank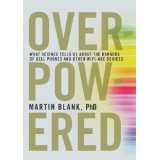 Reviews of Over Powered. by Martin Blank

"This book is a must for anyone concerned with protecting their well-being, that of loved ones, and other species. From the personal, the political, and the planetary, you will never see things the same way again."—B. Blake Levitt, former New York Times contributor and author of Electromagnetic Fields, A Consumer's Guide to the Issues and How to Protect Ourselves

"The extremely well documented Overpowered reads like an environmental thriller! Dr. Blank does a superb job of explaining the biological effects of cellphones and all things wireless on cell physiology and how to protect ourselves and, most importantly, our children. The sections on electricity, wildlife, and  the 'business' of science all demonstrate the dark side of technology–an inconvenient truth we must consider."—Ann Louise Gittleman, Ph.D.

"Martin Blank deals with a difficult subject in a scientifically accurate but easily readable fashion. He covers everything from powerlines, to cell phones, to light bulbs, to conflicts of interest, with humor and passion. In this great scientist, we have an unlikely activist and truth teller."—David O. Carpenter, M.D., Director, Institute for Health and the Environment, University at Albany
About the Author DR. MARTIN BLANK is an expert on the health-related effects of electromagnetic fields and has been studying the subject for more than thirty years. He earned his first PhD from Columbia University in physical chemistry and his second from the University of Cambridge in colloid science. From 1968 to 2011, he taught as an associate professor at Columbia University, where he now acts as a special lecturer. Dr. Blank has served as an invited expert regarding EMF safety for Canadian Parliament, for the House Committee on Natural Resources and Energy (HNRE) in Vermont, and for Brazil's Supreme Federal Court. 
EMF Experts Reviews OverPowered


Overpowered -What Science tells us about the dangers of cell phones and other WiFi-Age Devices  (271 pages)

So many books on electromagnetic radiation (EMF/EMR) are either too complex, or too simple. Dr. Blank cuts an effective path through a very complicated subject, explaining what EMF actually is & what current science tells us about the known health effects that result from EMF exposures.
Dr Blank begins with a discussion of electromagnetic radiation - how it works, the surprising omnipresence of sources (see the wires overhead, the light bulbs, the microwave ovens, the extension cords, the televisions, computers, etc), and now the preponderance of wireless devices that depend on their function from those EMF forces filling the air escalating the dangers.

Tests have been done to show that such electromagnetic radiation causes cancer, brain damage (think Alzheimer's and Lou Gehrig's diseases), infertility, and who can even imagine how much else to the environment (bees, trees, foods, etc).
Knowing that the big corporate producers of the ever-expanding wireless devices are not about to go away anytime soon, Dr. Blank simply asks that we all be informed of the possibilities of the effects of carrying around devices in our pockets, on our belts, in purses, or sitting on our desks, and in doing so consider how much we actually need all of the new `advanced forms' we really need. Can we reduce our need and in doing so improve the environment and our health and lifeline? It is a fair question and an important consideration.
Dr Martin Blank has done a terrific job in Overpowered, making a complex subject accessible to the lay reader. He speaks with quiet authority on a subject he knows well as one of the world's foremost researchers on EMF/RFs' effects on living cells.
Overpowered references to hundreds of scientific studies and a non-technical explanation of the science, Dr. Blank outlines how the human body reacts to harmful levels of wireless radiation. He also helps explain why our government agencies are so slow to react to protect us and our families.