Free EMF Seminar:
"Life as a Certified EMF Consultant"

This free EMF seminar was recorded live and posted here for 'anytime viewing' convenience, for all those  who've asked us, "What would my life be like as a certified EMF Consultant?
Meet your EMF Consultant certification training instructor, Chris Young, retired Senior Professional Engineer, who's career spanned the world, heading up various electrical engineering and power companies, consulting, in particular, to  the major Electrical Utilities specifically to make electrical energy more efficient and safer for people.



Introduction to EMF Certification Training


In this online powerpoint presentation (below) Chris walks you through the Who, What, Where, When and Why's of becoming a certified EMF Expert Consultant.
Find out who we are, what a day in the life of an EMF Consultant is like, what income you can expect, when the next course is, where this training can take you, and why the advantages of becoming a Certified EMF Consultant now may be the most timely decision you've ever made.

Click the 'Full Screen' icon (lower right screen) for best viewing.
Personal words from Chris:
"True, our usual live introductory presentations on this topic are, well, more lively than a recorded powerpoint!  And in watching a powerpoint this way you, unfortunately,  miss the opportunity to ask your burning questions, but -- not-to-worry -- you are welcome to email or phone me and I'll be glad to help get you the answers you need, and happy for the opportunity to share the warm-blooded real world enthusiasm that the topic of becoming an EMF Consulting deserves.

And Yes, before you leave this page, pick up your Gift Coupon, since you now qualify for the substantial discount coupon, which you'll find in your Training Info Packet (below).

---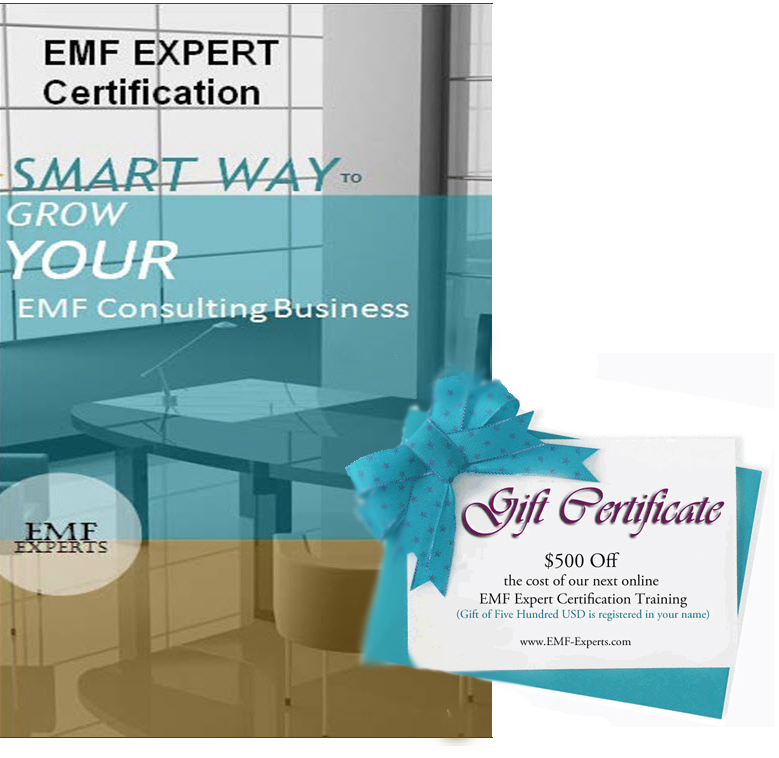 Here's your"Certification Training Info" packet (Courses, Syllabus, Current Prices, Discount Offers, etc) that accompanies the Video.
---