EMF Meter Training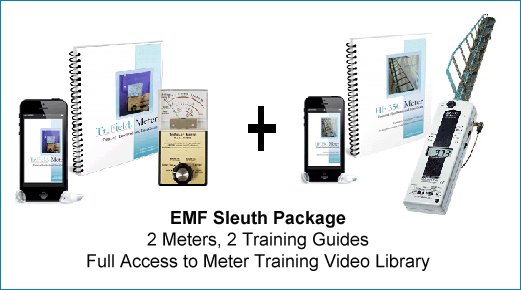 NEW TO EMF DETECTION & PROTECTION?

Here is he EMF Meter Training package that will give you everything you need to begin evulating the EMF in your environment with confidence.
No one EMF meter can do it all, but these two meters together will allow you to detect the most common sources of today's EMF exposure in your home or office, and enable you to achieve a comprehensive EMF Protection plan to reduce your family's EMF exposure with health safety assurance according to well established Precautionary Biological Safety Standards.
The ALL INCLUSIVE  EMF Sleuth Package includes:
1 TriField EMF Meter for Electric and Magnetic Fields

1 TriField  Training Manual and User Guide eBook (45-pgs)

1 Elecktrosmog EMF Meter for Radio/Microwave Exposure

1 Elecktrosmog Training Manual and User Guide eBook (55 pgs)
Full Access to EMF Meter Training Video Library
          (step by step training in real world situations both meters)


Free Shipping anywhere in the Continental USA
(International  shipping available for an extra charge.Please inquire)


Optional Add-on EMF Meter Training Phone Consultation with Professional Electrical Engineer, Chris Young P.E.

Note: NY Residents will be asked for 8% NY Sales Tax separately.


The TriField Meter measures your exposure levels caused by electric fields, magnetic fields, and the two when they are occurring together as electromagnetic fields, which is just about everything electrical in your environment. The HF35C Elecktosmog Analyser measures your radio/microwave fields exposure levels from the innumerable wireless devices, appliances and technology in your environment.

If you are new to EMF Detection these  companion user-friendly meters and their accompanying  Handbooks with Video Training Library, will give you a complete confident start to EMF metering. And warranty protection.
All the complexity of selecting and learning your EMF meter simpler, faster, and your results more dependable. No one EMF meter can measure all the various kinds of EMF we are exposed to in today's world, but this combination comes closest, by detecting the EMF most commonly .  this is the package we recommend to our EMF Consultant training students.
$619.95 ALL INCLUSIVE
EMF Meter Training Package
(Regularly $750 when Sold Separately )

Optional Add-On:
EMF Meter Training by Phone Consultation

If you encounter any EMF situations that are confusing or too difficult for you to deal with on your own, simply request an "Ask an EMF Expert" consultation by phone.  $25 for 15-20 minutes is usually all you need.

Chris, with thorough knowledge of these meters (and years of experience using them professionally) will be happy to walk your through the situation with advice you can trust, that will save you time and money and, most of all, concern..