EMF Experts Award of Excellence
EMF Experts Award-of-Excellence are given to outstanding Graduates of the EMF Consultant Certification Training Course.  These seals are imprinted on the back of the professional Certified EMF Consultant ID cards that every student receives upon successful graduation, and displayed in the EMF Professional Directory included in each consultant's directory listing .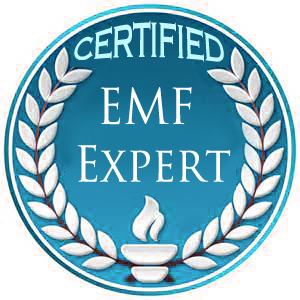 The Certified EMF Expert Seal of Achievement

Every student of the EMF Consultant Certification course achieving a 100 point grade (100%), which is the passing grade, is awarded the Certified EMF Expert Seal of Achievement.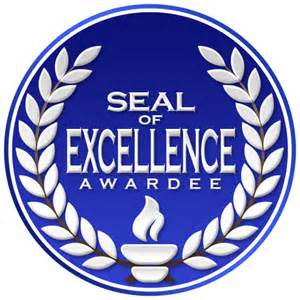 Seal of Excellence

All those who have achieved a passing grade of 100% with special added effort will graduate with an Honors Diploma and their ID Card will be imprinted with the royal blue Seal of Excellence.
The Award of Excellence Laurels

Winners of the EMF Experts "Award of Excellence Laurels" are those distinguished students  who have achieved a passing grade of over 120% , which is only attainable by going "above and beyond" on their class assignments, will find this highly regarded Award of Excellence  laurels insignia imprinted on the backs of their ID cards.
All consultants are encouraged to show their  ID card to clients not only to demonstrate your credentials but to enable clients to verify that you are who you say you are, generating both trust and personal safety.  Your ID Card also distinguishes you from all other EMF consultants.

Clients may check Certified EMF Consultant credentials at:
https://www.emf-experts.com/verify.html 

---
Certification
All students must achieve 100% to pass the course, whereby they are awarded an "Certification with Honors" diploma.  We have designed our certification qualification training so that all graduates  complete the course with honors (or they are welcome to keep trying).  This honors distinction is a meaningful one that engenders the confidence of the entire EMF consulting industry and gives EMF Experts graduates the most highly respected reputation among both industry peers and clientele.  In turn our fine graduates confer upon us the reputation for providing the most highly respected EMF consultant training in the world. 
Accreditation 

Today there is no official accrediting body per se for EMF Consultant training.  All graduates of EMF Experts training officially become Certified EMF Consultants, due to the fact that head instructor, Chris Young, is licensed as a professional electrical engineer, which qualifies him to instruct EMF Detection and Protection training courses.  We are in position to become accredited training, with  highly qualified course leaders, many years of  training experience, and a growing body of graduates already out in the world working to these new high standards.

It is our expectation that students who have met our rigorous certification standards will be grandfathered in when this training becomes an accredited training program.

A helpful precedent to understanding this process is that our certified graduates are beginning in the same way that the, now officially accredited, LEED (Leadership in Environmental and Energy Design) training began, by being excellently trained by recognized qualified leaders, and becoming more and more recognized in the field as the standard of excellence until such time as an accrediting body is formed to acknowledge this as self-evident.

Today, we are well on our way to accreditation with the unofficial accreditation this training has earned in terms of being a recognized training program qualifying engineers and other professionals to earn continuing education credits (usually annually) in order to maintain their professional licensure.  This legal continuing education requirement is similar to the process doctors and lawyers must complete to maintain their right to practice as well.

So, today in preparation for official accreditation students are issued an official Certified EMF Consultant diploma and ID card, to identify them by their qualifications.