EMF Consulting:
Does my Location Determine my Success?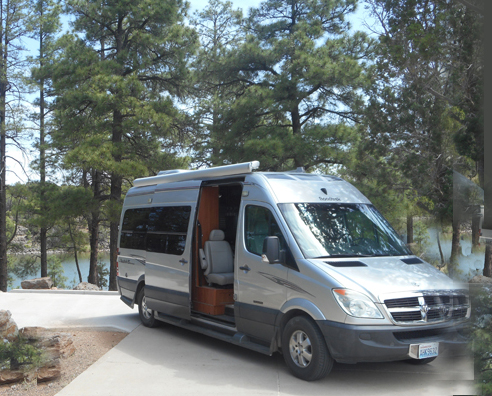 We have numerous EMF Expert Consultants who run their EMF Consulting business internationally, from a simple home office that could be anywhere on the planet. Others seek remote locations (like the mobile office you see pictured here) in order to consult for a target market seeking (highly sought-after) remote low EMF locations. Others have specialized their EMF consulting business to focus on a particular target market that is not location specific. The possibilities are endless.

A consultant does not always need to be in a high population area, because there are so many different avenues that consulting can take you. It does not need to be limited to residential on site consulting by any means.
To name one common example, we have huge numbers of electrosensitive certification course Graduates who never leave their home (because they simply cannot) and yet they run successful EMF consulting businesses in many different areas, from printing EMF materials for activist groups, to internet savvy six-figure bloggers, to EMF phone consultations in any number specialty areas such as senior care, healthful aging, child autism,  advising low-EMF community developers, etc etc.
EMF Consultant Specialists are In High Demand

Many times the area of EMF Consulting "specialty" that you are best positioned to succeed in depends on your former business or life experience and the many ways that EMF training can expand on that.  Here are numerous examples of how EMF Consulting certification has expanded, or revitalized, or even repurposed altogether, former work experience, and put in place a new EMF income stream based on old skills.  You can see that residential and business on-site consulting represents only some of the wide ranging opportunities we prepare our grads for.

And to add to that, many students are already prepared far better than they realize because they have all the professional where-with-all connections and contacts they need … such as lawyers (think activist consulting), doctors (think electrosensitivity consulting), health care workers of all kinds, community minded soccer Moms, and many others. That is why only a fraction of our grads choose to be listed in the EMF Professional Directory; they would be swamped with inquiries from the general public via a directory listing visited by hundreds, sometimes thousands, of people a day.
Too Many EMF Consultants in One Location?

In EMF Consulting there is no such thing as a "saturated market" or a "customer territory", or "having the market cornered", the way there is in some other areas of consulting.  For one reason, this is because the 'target market/ is so vast it includes virtually every single person  since EMF affects every one of us, and whether we feel it or not today everyone has a tipping point, which makes each of us a potential client.
For another reason EMF Consultants offer such a wide range of consulting specialties as you can imagine they are more apt to work together than compete. In one neighborhood alone there could be room for dozens of EMF Consultants, each offering a different EMF specialty.  For example, in addition to the one doing home EMF measurements, one may be offering hand-made EMF-shielding baby clothes, another EMF-minded Feng Shui, another offering handyman EMF remediation, another offering low EMF lighting fixtures, another offering EMF Detox coaching - the list is practically endless.
In fact, based on our experience, it is very validating and supportive to have a diverse network of EMF consultants that you can refer clients to, and vice versa.  Consider also that referral fees can represent an unexpected new income stream for you.

So when you see that an EMF Consultant in the EMF Professional Directory is already actively consulting in your location do not assume that they are competition, or even that they are "the only game in town". Get to know them, find out how you can work co-cooperatively.
Also the reverse is true - don't assume that because they say the demand is low because the general public is unaware of the issue, that this is the case for every consultant or would be the case for you.  It may be that this consultant does not have adequate business building skills, or training. In another sense, if I heard that statement I would recognize it as a giant opportunity to educate in that area, for example, keynote speaking on EMF issues is a very well paid specialty and many organizations are looking for leading edge topics.

EMF Consulting is Occurring Literally Everywhere

So, I can say from experience that if you are in an off-the-beaten-path location it is no hindrance at all unless you want to specialize only in local residential inspections. EMF Consulting is a much bigger playing field than that and I encourage you to think bigger.

As I write that I am reminded of one of our Grads who is in high demand across the continent, and flown in regularly to some very nice locations for those custom home builders who seek his pre-building EMF consulting as to site location selection, EMF minded site prep and home positioning, building material recommendations, EMF testing during construction, and much more, including contributing to the home design features that keep future-EMF-proofing for changing EMF technology in mind. 
 It all depends on you and your EMF Consulting goals.  If you do not have a clear picture at this stage, don't worry.  During training, you are more than likely going to discover several avenues of EMF consulting that you had never considered.
And as a last word, for those of you who have never been in business for yourself or offered consulting services, we offer an EMF Consultant Business Building training module as an add-on, which is available only to  Certified EMF Expert Consultants - the graduates of our Certified EMF Expert Consultant training course.