EMF Detectors/Meters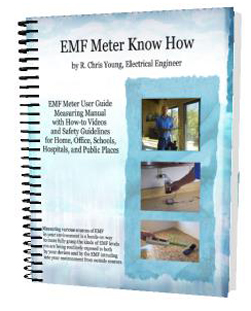 "EMF Meter Know How"   ebook is the hands-on practical guide written by a professional electrical engineer in every day language designed to help the average person determine how to purchase the EMF meter that is right for his/her situation, understand the principles behind its function, how to use it in practical application, how to obtain accurate readings.
And, most importantly, how to interpret the measurements obtained according to the safety standards of various countries AND the more conservative EMF health professional and neuroscientific research safety guidelines.
Secure your copy of this indispensable guide for using most popularly available DYI meters to measure the EMF in your individual  environment and become aware of the pollution you are living with so you can take appropriate action to eliminate, or at least reduce, the EMF threats to your health.
Learn more about "EMF Meter Know How" with order Info

---
Below are our reviews of basic, relatively low cost, meters we recommend for home and professional use.

---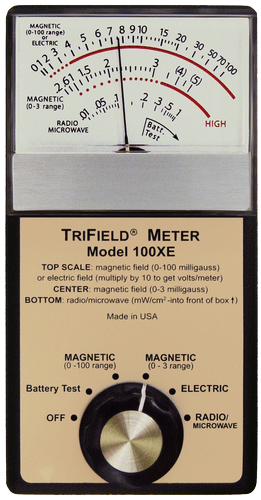 TriField Meter
This basic analog meter is very simple to operate and  can reveal sources of EMF in unexpected places within a person's environment. If you live or work in a building where there are other tenants you will be able to know what is happening on the other side of the walls of your environment which can affect you such as fluorescent lighting on the ceiling below your floor or a transformer in an office space next to yours. This knowledge can allow you to take precautionary measures such as moving your bed or desk to a safer location in the room or identify places where special shielding is needed. The scales on the meter for electric and magnetic fields are appropriate for this purpose. The Radio/Microwave Scale is in a range seldom experienced in living spaces and is calibrated to match the levels of EMF identified as of great concern by the current USA government standards which is far higher than the international guideline.
Click here to download the "Instructions for use"

---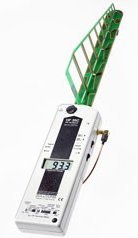 High Frequency Meter
A very useful calibrated wideband (800 MHz – 2.5 GHz) RF meter because it has a switch which allows a choice of peak or RMS indication mode. This permits accurate measurement of both instantaneous (short duration like radar or smart meters) and continuous signals (like cell towers or radio towers). Two ranges: 1 - 1999 µW/m² (same as 0.1 – 199.9 nW/cm²) and 0.1 - 199.9 µW/m² (same as 0.01 – 19.99 nW/cm²).
In addition, you get a choice of audio tone – none, or intensity proportional to field strength, or proportional to frequency (for analyzing pulsed signals) with the tone you can determine the type of EMF being measured. Each source has a unique sound.
- accuracy ±6 dB
- true logarithmic - periodic antenna, 800 MHz – 2.5 GHz, signal polarized, included
- standard 9V battery included
The display on the HF35C updates every 0.5 second. The fastest pulse it can detect is 0.5 micro seconds.
When in peak mode, the display averages all peaks within ½ of a second. The average peak is displayed on the display.
In RMS mode it displays the root mean square (RMS) average of all signals during that ½ second period. This reading is much lower than Peak mode when measuring a digital signal.
Easily detects cell phone towers, cordless phones even microwave oven leaks. Instructions in German and English. The 3 minute YouTube video below demonstrates how the sounds from this meter help distinguish different sources of RF (video sound starts after 19 seconds).
The antenna is detachable to avoid damage during storage or when transporting so its a good idea to keep the original packing box and use it for protecting the antenna.

The unit comes with a 2 year Warranty. Model HF35C.