EMF Meter Video


The Typical Workhorse Meters in EMF Consulting
In this EMF Meter video you will see the meters that I typically use for a residential or office  EMF evaluation Consultation.  You will see the Trifield electric and magnetic meter and the HF35C radio/microwave meter that we use for EMF detection training, in addition to the other meters that could make useful additions as you grow your EMF Consultant meter collection.
Although as a professional Electrical Engineer I own many other EMF Meters, these are the ones I use most often to evaluate the most commonly found EMF exposure situations, which enables us to determine an EMF protection plan based on the meters' findings,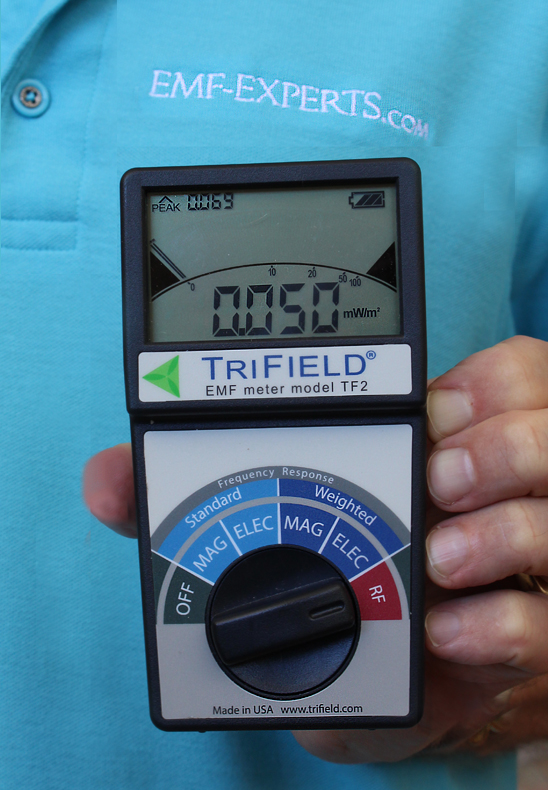 Update Note: the two TriField Meters that you see referenced in this EMF meter video, the Trifield 100 XE Flat Meter and the TriField 100XE Weighted Meter, have now been replaced by a newer model - the TriField TF2 --  that  combines both these former analog meter into one digital meter and also beefs up the meter's radio/microwave capability. Although we still like and use the tried-and-true former mechanical type meters, we recommend the newer TF2 model to our student for its 3-meters-in-one value, its increased capability and its ease of use.

Of course there are many other meters, of the thousands available on the market, that would also do the work however not all meters are created equal.  We've selected these ones because of their quality manufacturing, relative accuracy, user-friendliness, and reasonable price.




The Rationale behind Meter Selection in this EMF Meter Video?



Many times Engineers and other highly technical students ask me why I recommend these "consumer grade" meters, which are not nearly as precise as  meters used in many professional industries, such as engineering, electronics, telecommunications etc.  Apart from the fact that industrial  types of meters very high cost, which is many thousands of dollars more, Chris explains why consumer grade meters  offer other unexpected, practical, advantages related to typical EMF consulting work.


Recommended Meters when you are Ready

to Expand Your Collection
Recommended Consumer Grade Meters :

Respected Meter Brand names:
Gigahertz

Solutions,

EMF Fields

Alpha Labs


Aaronia
Specific Recommended Meter Types/Models to Add to Your Collection:
Accoustimeter AM10 – Broader Range of Radio/Microwave Frequencies (but less Sensitivity) in a sturdy travel-friendly metal casing.  2 Different approaches to measuring:  Power and Field Strength ($350 USD)
Dirty Electricity Meter – Greenwave EMI Meter (Electromagnetic Interference Meter), with Plug-in Filter to demonstrate voltage change. (Both - $200 USD)
Body Voltage Meter -  Any $20 multi-meter will do this job and can save you expense. However there are brands using the same measuring parameters that call their multi-meter by the name Body Voltage Meter.  ($120 USD)
PC Based Oscilloscope  (USB Port) – Identify the Dirty Electricity frequencies, record and graph them on your computer ($300 USD)
Aaronia  Spectrum Analyzers – High Range Radio/Microwave Meters  measuring up to 20 GHz (€4,000 EU)
Remember, you will still likely need a meter capable of even higher ranges to measure 5G in many cases. These meters are not available to consumers yet.

CONSUMER TIP:  Always inform yourself of  the manufacturer's warranty, seller's return policy, customer guarantees etc., BEFORE purchasing any meter.  Be sure to test all your meter functions when you receive the meter, in case you are required to return it promptly in order to meet the seller's short return-policy (days or weeks) time frame.  Meters can and do fail.
Recommended Industry Grade Meters:
 
Respected Brand Names ($5,000 USD and up):
 Please note, if you would like some electrical engineer know-how  or professional info regarding  an expensive industry grade meter that you are considering, you are invited to schedule a phone consultation

---
Return to EMF-Experts.com
EMF Consultant Certification Training